This past week we had the privilege of hosting 80 middle school students to our farm for a tour. This was a part of the Adopt a Farmer program that connects middle school classrooms with a farmer for the year. The program covers all areas of agriculture, including dairy. I was so excited to participate with this program this year.
As we built and transitioned into our new robotic facility, it had been a couple years since we had hosted any school groups. The class tours are always my favorite as children have such enthusiasm for hands-on learning. I was even more excited that the Adopt a Farmer program focuses on middle school aged kids in grades 6 to 8.
As an industry, I think we are really good at getting information to the younger classes during those first years of school. Then we kind of hit a gap in those middle years. It was so great to host this group of middle schoolers and get to share and expand on the basics a little more.
This age group had great questions and was really engaged in the information we shared. At the end of the day we asked them to share some of their favorite new information, and their answers really impressed me. I think this age group is important to engage in as they are starting to make their own consumer decisions.
I know tours of any kind can be a lot of work. I'm so glad we have an awesome partner in Oregon that makes these connections easy. I encourage you all to consider hosting your own farm tour with any age school group. Reach out to your industry allies to help make it easy, fun, and successful. And don't forget the older kids.
---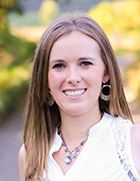 Darleen Sichley
The author is a third-generation dairy farmer from Oregon where she farms in partnership with her husband and parents. As a mother of two young boys who round out the family run operation as micro managers, Darleen blogs about the three generations of her family working together at Guernsey Dairy Mama. Abiqua Acres Mann's Guernsey Dairy is currently home to 90 registered Guernseys and transitioned to a robotic milking system in 2017.