"He's named after Grandpa! The highest bull in the world is named Richard Charles. How cool is that," I thought. With Net Merit in the four-digits, he was higher than anything Grandpa could have ever imagined while milking 32 cows for 70 years in a tie stall barn in Waukesha County, Wis.
The young bull was bred by my uncle, Leo Hurtgen and my cousin, Adam. He also traces back to the foundation 4-H dairy project of my cousin, Emily. His preliminary numbers were excellent and when he received his official genomic data, he was the highest Genomic Net Merit Bull in the world.

With that family connection, my Dad and brother wanted to purchase semen from Richard Charl. But, since he was quite young, semen was limited, and he was used as a sire of sons, that made his semen nearly impossible for the typical Holstein breeder to purchase. A year passed and the bull remained at the top, yet he still he did not appear on any sell sheet.
Earlier this year I asked a representative of the company that owns the rights to the bull of the status on the semen. The bull was now over two years old. He said, "Unfortunately, Patti, it is likely that you will never be able to purchase his semen." My nose krinkled, my eyes lowered, and I said, "Okay."
Welcome to the genomic era, where the sprint to reach higher numbers on top of higher numbers, does not allow for the result of the first generation to be seen before the subsequent ones are created. The genetic interval and subsequently the semen creating, it has been cinched tight with no signs of loosening.
Semen on elite bulls is coveted. It represents the edge that a genetics company has over its competitors. It can make the next generation of sires before others can acquire semen on the first generation.
The female-sorted semen from these elite bulls is often reserved for only the upper echelon of the female bovine genetics world. These uber-high GTPI females, present the opportunity to produce another wing of the genetic spectrum – mothers of future sons with the elite bull as the maternal grandsire instead of the paternal grandsire.
If the semen were to become commercially available, I most likely could not afford it anyway. After all, they are the best genetics available and probably would only be sold to me as sexed female semen. The technology to gender sort semen is expensive, and the additional cost is passed along in a higher semen price.
So, my best option is to wait and see if, and when, semen on Hurtgenlea Richard Charl will make it to our dairy farm's semen tank. I am hoping it is sooner rather than later. My hope is to cross my 4-H foundation line, my "Chime" family, which traces to my mom's 4-H project that was purchased by my maternal grandfather with a bull named after my paternal grandfather. Now that is moving modern genetics ahead by honoring the past.
P.S. Since writing this blog, I did learn yesterday that his semen has now been made available.
---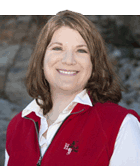 Patti Hurtgen
The author is the online media manager and is responsible for the website, webinars, and social media. A graduate of Modesto Junior College and Fresno State, she was raised on a California dairy and frequently blogs on youth programs and consumer issues.