The first day of school. Getting your driver's license. Graduation day. Each is new beginning that comes with responsibility and new experiences.
This weekend I attended the Lakeshore Technical College's annual graduation banquet. I have had the opportunity to attend the dinner and present the Hoard's Dairyman Award at their event for the last nine years.
Each year that I attend their awards banquet, it's a new set of students, but the sentiment is the same. They were a cohesive group who had such a connection to their classmates. Their joy was evident. Young people full of knowledge and excitement; ready to see what the world holds.
The nine graduating students each spoke about their background and their future plans. Each thanked their parents and the dairy farm families that served as their mentors during their education. Each story was a bit different. A few had no agricultural background and worked in other industries. Others had a different course of study in mind until they realized the dairy industry is where they wanted to be. There were a few that were from farms and wanted to continue the tradition. Their lives intersected with dairy farmers and the more they learned about cows, the more they wanted to work with them.
While the industry is challenging at this time, it is uplifting to know that there is still enthusiasm for what we do. And before you go raining on their parade with any negativity, let them enjoy their newly found love for learning and life. There will be challenges they face as they move forward — and not all will be positive, but for now, welcome them. Support them. Encourage them. We need them.
---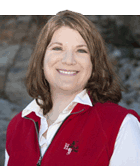 The author is the online media manager and is responsible for the website, webinars, and social media. A graduate of Modesto Junior College and Fresno State, she was raised on a California dairy and frequently blogs on youth programs and consumer issues.