I sat in rush hour traffic in Oregon's biggest city, Portland, the other day. It's something I avoid at all costs, but then again, I try to avoid driving to the big city for anything.
It always leaves me thankful for my barn boot commute and makes me wonder how anyone can endure those types of drives every day! What should have taken me an hour, took double that and left me needing some serious distractions to help me not lose my mind.
Ironically, in my podcast queue was a great listen from Alltech with Frank Mitloehner, continuing the discussion around livestock's contribution to global warming. If you aren't familiar with Mitloehner's work, this is a great starting point to his research. I've also had the opportunity to hear him speak in person and see his research that takes a hard look at the truth behind cattle and climate change.
As I sat in my rush hour traffic surrounded by thousands of vehicles burning fossil fuels for hours, I couldn't help but wonder how in the world we've come to a point where people can honestly point the finger at cow farts as a top issue to global warming. The truth is that in the last 70 years, dairy farmers in the U.S. have made improvements to cut our carbon footprint by two-thirds. That's an impressive improvement that deserves to be celebrated and needs to be a part of our dairy dialogue on a regular basis.
Climate change is a real concern for our consumers. We need to show our commitment to environmental stewardship that runs generations deep. To continue to share an open dialogue around this hot button issue. And to present dairy as a viable, environmentally friendly option compared to alternatives. As Mitloehner's research supports and he described on his podcast, "To change your diet from omnivore to vegan for one year is half the impact as one transatlantic flight." There are real ways consumers can contribute to an improvement in their carbon footprint just as the dairy industry has. Maybe they can start with carpooling.
---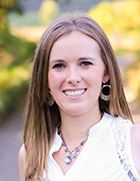 The author is a third-generation dairy farmer from Oregon where she farms in partnership with her husband and parents. As a mother of two young boys who round out the family-run operation as micro managers, Darleen blogs about the three generations of her family working together at Guernsey Dairy Mama. Abiqua Acres Mann's Guernsey Dairy is currently home to 90 registered Guernseys and transitioned to a robotic milking system in 2017.