One of my goals in writing these blogs is to bridge a gap that I have perceived between the farming side of dairy and the processing side. It's a chasm I have witnessed from both sides, and it's one that I think we should work to eliminate.
I grew up on a dairy farm, and while I had a pretty comprehensive view of everything needed to produce milk, my exposure to what happened after milk left the farm was limited. From what I knew, my options to stay in the dairy industry were to either farm or work for a company that supplies the farmers. The idea of crossing over into processing was uncharted territory, as none of "those people" were farm kids, at least the ones that I knew. They wore lab coats or suits, we wore work jeans and boots.
Teenage Erin knew a lot less than she thought. Now, I work on the processing side. I'm one of "those people," and I am not the only farm kid who took the leap. The career opportunities in dairy processing are both diverse and connected, far more than I ever would have thought. Suits versus boots was a naïve comparison. For the record, we wear both!
So, what do I do? I manage product development for a farmer-owned dairy cooperative in the Midwest: Prairie Farms. Essentially, if it's new, different, or a problem, I'm likely somehow involved. Do you love our new product? I'll take the high-five. Do you dislike the new flavor we introduced? Send me your complaints.
I oversee development projects from concept to commercialization. This requires me to keep my finger on the pulse of upcoming trends, flavors, equipment, and processes. Once a new product is determined, the next step is to figure out how it will be made. Do we need a new processing line? Do we need a new type of package? Can current equipment be retrofitted? Some days I'm in a plant; some days I'm in the office. Other days I can be found on a farm, at a trade show or event, or meeting with suppliers or customers. No two days are the same!
Considering our company's size, we are pretty lean in corporate staff. The beauty of this is that a job title doesn't restrict one's growth: we have the opportunity to wear many hats and contribute our strengths and passions. Being farmer-owned, I can always get back to my roots and remember my "why" by visiting our members' farms. I can share my passion and enthusiasm for dairy's pure goodness by interacting with consumers at local events. I can innovate and use my problem-solving skills to improve our products and manufacturing processes. I am so fortunate to get to do it all, and honestly, I had no idea it was even possible.
That's not to say there aren't challenges or hard times, but rather it is more closely related to the farming side of dairy than I would have known. Even on the tough days, the work is worthwhile and meaningful. We all have the same goal of nourishing mankind with quality, nutritious dairy products. Folks from the dairy industry, whether farm or plant, would be my first-round draft picks every time.
If you are interested in other areas of the dairy industry, I encourage you to explore them. You might find your dream job, or you may just find that your team has a much deeper roster than you ever realized. Either way, it'd be a win!
---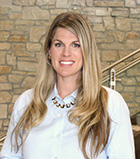 Erin Massey is the product development manager at Prairie Farms, a farmer-owned cooperative based in Edwardsville, Illinois. She is responsible for overseeing all aspects of the development process, from concept to commercialization. Erin grew up on a Florida dairy farm and has a deep-rooted passion to invigorate the dairy industry. Erin earned a bachelor's degree in chemical engineering from the University of South Florida. Her personal mantra is "Be Bold."