The All-American Dairy Show Judging Contest celebrated its 51st year with its largest contest — in every division — this year. Harrisburg, Pa., is the site of one of the four major dairy judging contests held in the fall. This year, the host state produced the top collegiate individual and team. However, the winning teams for 4-H, FFA, and two-year colleges spanned from Florida to Minnesota to New York, respectively.
Judy Black and her committee organize the contest for the four divisions each year. She was very excited with the record turnout for the contest. She graciously thanked the coaches and teams for making the trip to Harrisburg to compete. She believes the award implemented for the 50th anniversary was the drawing card — $500 for the high individual and $250 for the high individual in reasons in each division. The award sponsor, David and Janet Hileman of Pennsylvania, agreed to continue this gracious donation. In 2019, the high individual in each division was also the high individual in reasons. So, being an ace at reasons paid dividends to the tune of $750 each to the four winners.
Collegiate contest
Daniel Kitchen of Penn State was the high individual in the college contest. He bested Avery Kotlarczyk of the University of Wisconsin-Platteville and Brandon Almeida, Cal Poly, by 10 points. Gregory Norris, Penn State, placed fourth, while Tanner Morrison, University of Minnesota, placed fifth and was second in oral reasons.
With two members in the top five, Penn State took the team title by 29 points over the University of Minnesota. The Nittany Lions who competed were Daniel Kitchen, Gregory Norris, Caleb McGee, and Belle Dallam. The Gophers topped University of Wisconsin-Platteville by just 3 points. Cal Poly took fourth and Tarleton State University of Texas placed fifth. There were 16 full college teams that competed.
Two-year college contest
It was fairly easy to predict the two-year college winner after the team that won four of the five breeds and reasons was announced. That honor went to New York's SUNY Cobleskill. Team members were Cassie Menendez, Angela George, Laura Littrell, and Bryce Windecker. California's Modesto Junior College was the second-place overall team. Kaskaskia was third and snagged the Ayrshire team title. SUNY Morrisville, Michigan State Ag Tech, and Ohio State-ATI rounded out the top teams.
Cassie Menendez of SUNY Cobleskill had a fabulous day. Cassie won the reasons portion by 8 points (on four sets of reasons), and she topped the next best competitor by 10 points. Second-place finisher Cole Krusek attends Kaskaskia College in Illinois. Joey Freitas of Modesto Junior College, Angela George of SUNY Cobleskill, and Caitie Theisen of Michigan State Ag Tech completed the top individuals.
FFA Division
The Minnesota FFA team took the overall title as well as winning reasons. With three team members in the top five, they had the team title solidified. Team members were Morgan Wingert, Kelsey Biel, Krista Jorgenson, and Klaudia Biel. Wisconsin FFA, which placed in the top five in every breed and reasons, placed second overall. Indiana FFA, Kentucky FFA, and Georgia FFA followed in the 10-state field.
High individual overall and high reasons went to Morgan Wingert of Minnesota FFA. Teammate Kelsey Biel and Katherine Elwood of Wisconsin tied in points for second place, trailing the leader by a mere two points. Jesse Franck of Indiana FFA and Krista Jorgenson of Minnesota FFA completed the top five. Josie Kurtz of Kentucky FFA had the same score as fifth place but lost the tie-breaker on reasons and placed sixth.
4-H contest
It was a bright night for the Sunshine State with all four of their team members in the top eight of the contest. Florida 4-H's Julia Heijkoop was high individual, Austin Holcomb was third, Nicholas Hammer was sixth, and Shelby Sumner was eighth. They won the reasons category and then topped Kentucky 4-H by 20 points for the overall title. Third place went to Missouri 4-H, followed by Michigan 4-H and Wisconsin 4-H. Thirteen states were represented in the 4-H contest.
Heijkoop not only won individual honors, she talked her way to the top of the reasons category. Lauren Siemers of Wisconsin 4-H placed second in reasons. Both young ladies earned a perfect 50 on a set of reasons. Top overall individuals also went to Casey Montgomery of Kentucky FFA in second and teammate Kelly Baird was fourth. Missouri's Bailey Groves placed fifth overall.
These results show that reasons matter. Congratulations to all teams! Thanks to those who followed the live results on our Facebook page and cheered on your friends and alma maters. We hope you join us for the judging contest banquet at World Dairy Expo in a few weeks.
---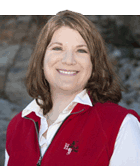 The author is the online media manager and is responsible for the website, webinars, and social media. A graduate of Modesto Junior College and Fresno State, she was raised on a California dairy and frequently blogs on youth programs and consumer issues.