Living in the mid-section of the country comes with the ease of traveling to World Dairy Expo. For nearly two decades, I have made my way to Madison, Wis., during the first week of October to attend Expo. I've gone as a dairy producer and as an employee of a dairy company. This year, I attended the entire event as both — a dairy producer and a brand ambassador for DeLaval.
Yes, it was a pretty cool gig, but really what intrigued me the most was the amount of people who followed my endorsements for a variety of reasons. Some of my social followers were dairy friends who either could not make it to World Dairy Expo due to the cost of getting there or those who simply could not leave their farm because of a lack of help. A number of my followers did make it to Madison, but Expo is so big and having someone give them a glimpse of what was going on the "other side" was valued.
My takeaway as a dairy brand ambassador was more than the company's slogan, "We live milk." Most of us in the dairy industry "live milk" because it provides a way of life that we all have grown to love.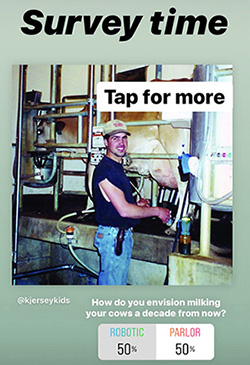 Much interest was generated with a question I asked to my social followers, "How are we going to milk cows a decade from now?" I'll let you figure that one out on your own, but my observance during my time at World Dairy Expo is that all milk companies, not just DeLaval, were mainly showcasing robotic milking systems. And, besides people talking about milk price, many conversations revolved around labor back at home, or the lack of. I really feel my initial question goes hand in hand with how we will milk our cows in the next 10 years.
I wholeheartedly enjoyed being a brand ambassador at World Dairy Expo, but what I will tell you is that this was more than a cool engagement. Really, all of us dairy farmers are brand ambassadors, and our goal should be not to bash the companies we don't align with, but we can promote the ones that we do.
---

Karen Bohnert is a second-generation dairy farmer, born and raised on her family dairy in Oregon and moved east after graduating from Oregon State University. Karen and her husband work in partnership with family, and they along with their three children live and work on the family's 500 Jersey cow dairy in East Moline, Ill. Karen's pride and love for dairy could fill a barn, and she actively promotes dairy anyway she can.