I don't have kids. I mean, I have 500 Jerseys that are basically like toddlers, so maybe I do? However, I am a farm kid. So, allow me a moment to remind farm parents of all they are doing from the farm kid's perspective
Mom was our caretaker. She cooked, she cleaned, and she threatened us with "just wait until your dad gets home" daily. She did most of the farm paperwork while shuttling us from activity to activity then putting us to bed alone each night before she went outside to help my dad finish milking.
She held down the day-to-day tasks, was the drier of our tears, and the loudest cheerleader at every sports game. But when the farm called, she could chop corn or haul bales as well as the next person. She was our go-to because she was always there. Always.
Dad was constantly working. If we wanted to see him, we had to find him, and I mean find him. We didn't have cellphones back then.
More importantly, you never complained that you were bored around him or you'd spend the rest of the day cleaning something with a pitchfork. His temper was shorter than mom's, and when he did get an afternoon off in the house, he spent it sleeping in his chair. We'd hide under our beds when he did come home because if mom told him whatever trouble we had gotten into our punishment was going to hurt.
He hardly ever saw the beginning of any sports game or chorus concerts, but we couldn't contain our excitement when he'd show up halfway through to occupy the seat mom had saved him. He taught us the hard lessons. The lessons you cried about then but are grateful for now. He worked so hard to give us everything, and he did.
Now, as an adult who sees things for what they really are, I understand the sacrifices they made. I see all the farm parent's on social media worrying about the things their kids may be missing, and it breaks my heart.
Yes, I missed a lot of things because of the farm, but do you know what I remember? The nights we spent making hay together and the sunny June afternoon I sat under a tree reading my first chapter book while I opened the gate for the tractors that drove by. I remember one unremarkable softball game when my dad came walking down over the hill coming to watch me when I didn't think he was going to make it. I remember the nights dad taught us how to skip rocks on the creek next to our fields. We only went on two family vacations, and we still talk about them to this day.
Looking back, I remember the bad times, but the good times are what left an impact. I didn't see the struggles or the worrying; I saw two people working hard to teach their kids how to be good people while letting us be kids as long as we could. Mission accomplished.
---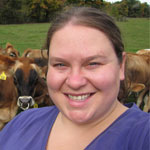 The author dairies in partnership with her parents and brother at Spruce Row Farm in Pennsylvania. Jessica is a graduate of Pennsylvania State University, and since 2015, she has been active in promoting dairy in her local community. You can find her and her 250 Jersey cows on Facebook at Spruce Row Dairy or on Instagram at @seejessfarm.