We recently hosted dairy farmers from New York on our farm in Oregon. I had never met these farmers before, but we had been connected through the Guernsey breed. Like many other farmers visiting a new area, they hoped to tour a farm.
It's always a fun surprise when I get a message like the New Yorker's. It got me thinking about how it doesn't matter the distance, across the country or even the world. The connections that are formed over the bovine species are special.
Whether the visit is because of the love of a breed or a desire to check out a facility design or technology, they are always good experiences. It seems the conversations flow easily despite how diverse and individualized the dairy industry really is. Those conversations can be invaluable from a perspective of brainstorming to troubleshooting or even just appreciation of good cows.
These visits always leave me feeling refreshed in my admiration of the people who dairy farm. Maybe I am biased, but I really do think we are truly lucky to have such amazing people within and supporting our industry. While I say I dairy farm as I'd rather work with cows than people, the connections I've made with "cow" people reaffirm my faith in humanity.
It seems almost silly to say cows are an important connector in life, but when your life revolves around cows, it only makes sense that they would be responsible. And honestly, I am so glad of the people connections that cows have brought into my life.
---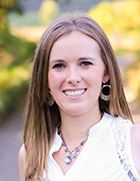 The author is a third-generation dairy farmer from Oregon where she farms in partnership with her husband and parents. As a mother of two young boys who round out the family-run operation as micro managers, Darleen blogs about the three generations of her family working together at Guernsey Dairy Mama. Abi-qua Acres Mann's Guernsey Dairy is currently home to 90 registered Guernseys and transitioned to a robotic milking system in 2017.