You've heard of life hacks, right? Those little tips or tricks that make your life a little bit easier? Well, last night while I was milking, I was thinking of all the little hacks we use around the farm to make life a bit easier. They seem small and insignificant, but in a job that feels overwhelming more often than not, they help. So, here's a short list of hacks or tips that we use around our farm that have made life a little bit easier.
The first one is one of my favorites. We probably have a dozen hoses mounted around the farm. Coiling hoses is super annoying, but we found a hack that makes it easy peasy. We mounted some old, battered tire rims to the wall and wrap the hoses around it. It's perfect!
I used to be a person who agonized over their ringtone, which is kind of dumb. But one thing I did a few years ago has made my life a lot easier: I programmed three different ringtones. One is for general calls, another is for my mom (Mamma Mia is her favorite movie), and one is for everyone who works on the farm. So, when "Takin' Care of Business" — the farm ringtone — plays, I know I need to answer it. It sounds small, but when you're covered in manure or fighting a new heifer that just calved, having an idea of who's calling you makes life a little less stressful.

On a dairy, we use multiple chemicals to wash the milking system after every milking, so we end up with a lot of empty drums. After we clean them properly, we reuse some of them. We cut the tops off and use them as garbage cans around the farm and have a few we use to carry the microfiber towels to and from the parlor. We've also used them to make portable posts. If you've ever poured concrete, you know that there's always a little bit leftover. Well, we cut the larger drums in half and set them aside. Then when we have spare concrete, we grab a post, put it in the middle of the half drum, fill it with cement, and you've got yourself a very solid portable post!
Everyone dairy farmer has hoses in the milk parlor. Because most parlors aren't big spaces, the hoses are typically pretty short. Ours are only nine feet long, and hoses that short are sometimes hard to maneuver. And, because they're high-pressure hoses, they're thicker than the average garden hose, which makes them harder to bend. We use quick attach hose connectors between the hose and the nozzle so we can swivel the nozzles as we need to.I know these all seem like small, maybe pointless, tips, but some days it's the little things that matter. And why not make your life a little bit easier? Farming is hard; wear a helmet.
---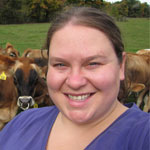 The author dairies in partnership with her parents and brother at Spruce Row Farm in Pennsylvania. Jessica is a graduate of Pennsylvania State University, and since 2015, she has been active in promoting dairy in her local community. You can find her and her 250 Jersey cows on Facebook at Spruce Row Dairy or on Instagram at @seejessfarm.