Topline seamlessly straight? Check. Tail fluffed to perfection? Check. Cow correctly set up at the slightest gesture of the judge? Check.
During the 2021 World Dairy Expo Youth Showmanship Contest, the competitors did not want to leave a box unchecked. Every small detail before and while being in the ring is of great importance. From across North America, 280 competitors vied for top honors among all three age categories.
Being the most showring ready, one youth from Ohio claimed the Junior Division title, and two showmen from Iowa won the intermediate and senior divisions. Receiving the top recognition and the W. Terry Howard Award of the Junior Division, ages 9 to 13, was Colton Thomas of North Lewisburg, Ohio.
Following Thomas in the junior category included Ana Mikkelson, Wis.; Peyton Voegeli, Wis.; Brianne Vandoske, Wis.; Sophie Depew, N.Y.; Braden Ronnebaum, Iowa; Hannah Visser, Minn.; Keston Martin, Calif.; Noah MacDonald, N.Y.; and Chloe Lamb, N.Y.
In the intermediate division, ages 14 through 16, Jonathan Krogman of Ashton, Iowa, was the top showman and was awarded the Howard Voegeli Award. Other top participants were Isaac Folts, N.Y.; Calvin Bening, Wis.; Amelia Stone, Ind.; Lillian Finke, Ohio; Tessa Schmocker, Wis.; Mason Ziemba, N.Y.; Rebecca Murphy, Wis.; Kayla Visser, Minn.; and Brooke Zillges, Wis.
Cole Kruse of Dyersville, Iowa, won the senior division, ages 17 to 21, and the Keith King First Place Award. Following Kruse was Grant Itle, Pa.; Morgan Stone, Ind.; Emma Finch, Canada; Megan Ford, Canada; Dakota Brown, Wis.; Jordan Hawthorne, Canada; Dana Johnson, Wis.; Marissa Topp, Ohio; and Mariah Eichenberg, Wis.
Hoard's at Expo is sponsored by Agri-Plastics Group of Companies
---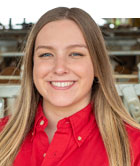 Jessica Schmitt
Jessica Schmitt grew up working on her family's dairy farm near Fort Atkinson, Iowa. She recently completed her junior year at Iowa State University where she is triple majoring in dairy science, international agriculture, and agricultural and life sciences education with a communications option. Schmitt served as the 2021 Hoard's Dairyman editorial intern this summer.