When looking at different colleges as a high school senior, one of my main desires from a university was the ability to grow myself professionally and develop a broader sense of the world around me. With whatever college I chose, I didn't want to feel contained or limited with opportunities. Ultimately, I decided on Iowa State University because even though I was staying in my home state, I was confident there would be endless opportunities to satisfy this urge to get out of my comfort zone.
I knew that the best way to get this experience would be through study abroad and seeing first-hand how other countries produce food. Unfortunately, COVID-19 had other plans. Three of my scheduled study abroad opportunities were canceled, and I lost faith in my ability to achieve this goal.

Finally, this fall things began to look up when I was accepted into the Soils, Crops, and Water of Costa Rica Program which includes weekly meetings and a 10-day trip to Costa Rica during Thanksgiving break. Each week, the class gathered to discuss the agronomy and culture of the country and prepared for the trip. As we neared our departure date, I feared it would get canceled just like every other opportunity before had.
However, the day came to load up the bus and head to the airport. After a couple short flights, I was in Costa Rica, getting the exposure and education I wanted. Those 10 magical days flew by as my classmates and I toured various farms, ate amazing meals, and witnessed gorgeous views.
Almost every day of the trip, we visited a different operation. We were able to see the production of coffee, pineapple, avocadoes, bamboo, vegetables, palm trees, cocoa, and many herbs. While all the farms were unique, I recognized they all carried a similar value in embracing the earth and all that it can provide. One of the farms we visited even used natural microorganisms from a forest next to their field to help the plants prosper.
It shocked me how even in the most mountainous parts of the nation, farmers made use of the land they owned. One farmer optimized the hillside by create ridges. These ridges were like rows of mounds that held the plants, and in between each of the ridges were little grooves. The farmer explained that the ridges hold the water and prevent it from running down the mountainside.

This international experience in Costa Rica was exactly what I wanted from my time at Iowa State. While it may have come a couple years late, my study abroad opportunity showed me that in agriculture, we must be resourceful, adaptable, and take care of the land.
---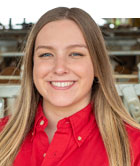 Jessica Schmitt
Jessica Schmitt grew up working on her family's dairy farm near Fort Atkinson, Iowa. She recently completed her junior year at Iowa State University where she is triple majoring in dairy science, international agriculture, and agricultural and life sciences education with a communications option. Schmitt served as the 2021 Hoard's Dairyman editorial intern this summer.