Lights, camera, action!
Giving a farm tour doesn't need to be a whole movie production. It can be as simple as pulling out a smartphone and pressing "record." A virtual farm tour can make a lasting impact on a person's viewpoint of the dairy industry.
With today's technology, giving a farm tour is easier than ever. In The Virginia Dairyman, the Dairy Alliance shared some key tips for conducting a virtual tour. Follow these guidelines to improve the quality, effectiveness, and information provided by your virtual tour.

1. Practice makes perfect. Don't expect to go out into the barn and know exactly what to say and how to act in front of the camera. No football team enters a game without the proper practice and a game plan. Get your game plan ready before you attempt to record.
Start off by doing some research. Even if it is your own farm, there are still components you might not know about. Be sure to investigate the process of dairy production, what products your milk is made into, and other background pieces you might not be familiar with.
2. Know your audience. A conversation with kindergarteners is going to look different than talking with experienced dairy farmers. Be sure your content is relevant and understandable for whoever you are talking to. Don't talk above their heads, but don't make it too simple.
Expect to receive questions. You know your tour was effective if your audience wants to learn more about you and your operation. Taking the time to answer questions will create a stronger bond between you and your audience.

3. Keep your route simple. Running around the entire dairy can be confusing and exhausting. The last thing you want is to be out of breath during your tour. Tours only need to be 30 to 45 minutes long, so there is not enough time to cover every single aspect of the farm.
Have someone record you. If you try to record yourself, you might not be able to catch the whole picture of the operation with you in it. Also, if you are recording live, this person can read comments and questions to make sure you cover everything and have an informative virtual tour.

---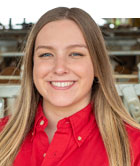 Jessica Schmitt
Jessica Schmitt grew up working on her family's dairy farm near Fort Atkinson, Iowa. She recently completed her junior year at Iowa State University where she is triple majoring in dairy science, international agriculture, and agricultural and life sciences education with a communications option. Schmitt served as the 2021 Hoard's Dairyman editorial intern this summer.