Guernseys have been a staple of the Hoard's Dairyman Farm since it was established just north of Fort Atkinson, Wis., in 1899. As the breed's oldest continuously registered herd in North America, the Hoard's Dairyman herd has earned recognition by the American Guernsey Association over the years, and 2020 was no exception.
The Hoard's Dairyman Farm earned the American Guernsey Association's (AGA) Top Commercial Herd award last year. This award is based on energy corrected milk (ECM) for herds with 50 lactations or more. In 2020, the Hoard's Dairyman Guernseys averaged 25,032 pounds of ECM over 164 lactations.
The farm ranked fifth overall in milk production, with an average of 20,985 pounds. The herd was second overall for protein production (3.55%, 740 pounds) and fifth for fat (4.65%, 966 pounds). For herds with more than 60 Guernseys, the Hoard's Dairyman Farm ranked first in these three categories.

Individual animals in the herd were also recognized for their productivity. The Component Queen list identifies the top Guernsey cows for combined fat and protein. The 2020 list of the Top 100 Component Queens included 26 cows from the Hoard's Dairyman herd, more than from any other farm. Leading the group was Dairyman Alstar 2194, a six-year-old cow that ranked eleventh overall.
As genomic testing grows in popularity within the breed, the AGA announced the top 5 genomic tested CPI cows and the 10 genomic tested CPI heifers. Both of those lists included 3 animals that were bred by the Hoard's Dairyman Farm.
The farm also had the fourth highest ranked bull on the Active A.I. Bulls list. His name is Dairyman Dawson Jordy-ET.

The Hoard's Dairyman Farm team is led by Jason Yurs, who has managed the herd and staff at the farm for nearly two decades. Under his watch, the Guernsey and Jersey herd continued to adjust to the new barn and voluntary milking systems that were installed in mid-2019. Half of the herd is milked with the robots, while the other half of the herd is milked in a double-10 herringbone parlor.
---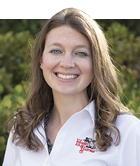 Abby Bauer
The author is the senior associate editor and covers animal health, dairy housing and equipment, and nutrient management. She grew up on a dairy farm near Plymouth, Wis., and previously served as a University of Wisconsin agricultural extension agent. She received a master's degree from North Carolina State University and a bachelor's from the University of Wisconsin-Madison.