Knowing I'm a farmer, it shouldn't be hard for you to believe that agriculture is my life. It's definitely an all-consuming kind of lifestyle. You're always on call, and you can't just say "no" when cows get out or there's a cow calving at 2 a.m. that needs help. It's not a job; it's a life. But does it have to be all ag all the time?
My dad likes to tell the story of a time he was the president of a local ag-related association, and they were in the midst of planning a state-wide meeting. As an annual meeting, the format was generally always the same. You had your business meeting, youth contests and banquets, at least two dinners, a lunch, and a speaker. Typically, the speaker had something to do with business, but that time, my dad wanted to hire a magician. He thought it'd be a fun way to enjoy the night and keep everyone interested. I think he's still a little miffed that everyone else said no. Most of the other board members thought that if they were going to take the time to leave the farm, they wanted to learn something about farming. It's sometimes the same when farmers start sharing on social media. We feel like it needs to be all farming all the time . . . and I have so many thoughts on this.
Firstly, how boring are we? Farmers love farming, obviously. But can we seriously not have interest in anything else? There have been times at farm meetings that I've felt like I couldn't talk about anything that wasn't farm related. I honestly felt embarrassed to even think about bringing up something like a movie coming out that I wanted to see or my favorite TV show. It almost feels like if I have an interest in something other than farming, I must not be a good farmer.

If I'm being honest, when I do finally sit down and have a free moment, I don't immediately grab the first farm publication within reach. I don't spend time watching farming videos on YouTube, and my Instagram feed is filled with just as many non-farming accounts as farming accounts. If farming truly is all that you're interested in, that's okay. I'm not judging you. I'm just saying it doesn't have to be all you're interested in. In fact, it's probably healthier if you're not. Especially when it comes to sharing on social media. If you want to reach more people, talk about more than farming.
I've always maintained that we (farmers) have put ourselves on an island. Not intentionally, but we tend to emphasize how hard we work and how important our job is, and it tends to isolate us from everyone else. Showing that we're interested in more than just farming is how we bridge that gap.

---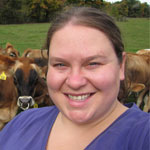 The author dairies in partnership with her parents and brother at Spruce Row Farm in Pennsylvania. Jessica is a graduate of Pennsylvania State University, and since 2015, she has been active in promoting dairy in her local community. You can find her and her 250 Jersey cows on Facebook at Spruce Row Dairy or on Instagram at @seejessfarm.