The Hoard's Dairyman Farm sits on the northern edge of Fort Atkinson, less than 2 miles from our magazine's office. Since 1899, the farm has served as a way to keep our magazine closely connected to our dairy farmer readers.
The farm has grown and changed over the past 120 years. One of the latest projects includes the production of cheese from milk that comes from the Hoard's Dairyman Farm's Guernsey cows. With its high fat and protein content and creamy color, the Guernsey milk provides a great foundation for the five varieties of cheese that are currently being made.
This year, the Hoard's Dairyman Farm Creamery has participated in several contests to learn how our cheese stacks up next to the competition. Most recently, two Hoard's Dairyman Farm Creamery cheese varieties were among the elite winners at the International Cheese and Dairy Awards held in Staffordshire, England, in July.

The competition is fierce, with over 5,500 entries competing, and only one Gold, Silver, and Bronze is awarded in each category. For over 125 years, the best cheese makers in the world have vied for the honors received at this event.
Wisconsin is always a strong contender in this particular competition. It is the only state that requires a license to make cheese and is the only place outside of Switzerland with a Master Cheesemaker program. So, it is no surprise that the America's Dairyland ranks at the top of several divisions.

St. Saviour, a Camembert-style cheese made by the Hoard's Dairyman Farm Creamery, has received several international accolades in past cheese competitions. At this global event, St. Saviour won the Silver Award in the "Best USA Cheese/Soft/Semi-Soft" category. It was applauded for its rich, buttery flavor.
The Bronze Award in the "Best USA Cheese/Mature Cheddar" category was earned by a newcomer, Hoard's Dairyman's Governor's Select Sharp White Cheddar. This Cheddar has a sharp Cheddar flavor with buttery-creamy background notes.

Twin victories at the Green County Fair
It was those same two cheeses that claimed the top honors a few days earlier at the Green County Fair. This cheese contest is the largest county fair cheese contest in Wisconsin. Blue ribbons were earned in the Cheddar division and in the semi-soft category.

To learn more about our Hoard's Dairyman cheese, visit hoardscreamery.com.

---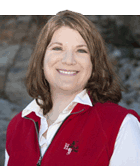 The author is the online media manager and is responsible for the website, webinars, and social media. A graduate of Modesto Junior College and Fresno State, she was raised on a California dairy and frequently blogs on youth programs and consumer issues.