"This is a cow you love the modern frame on," said Judge Pat Lundy of Granville, N.Y., when he named Ms Ransom-Rail Beth-Red Grand Champion of the International Red and White Show on Thursday afternoon. Beth, the winning Four-Year-Old Cow and Senior Champion, is owned by Milk Source, Ransom-Rail, and Laurie Fischer of Kaukauna, Wis. She was also the champion Bred and Owned animal of the show.
Lundy and his associate, Gary Jones of Gorey, Ireland, appreciated Beth's youthfulness in placing her over last year's Grand Champion, Antia Absolute Joline-Red, who was Reserve Senior and Reserve Grand Champion after topping the 125,000 Pound Production Cow class. She is also owned by Milk Source and Laurie Fischer of Kaukauna, Wis. Milk Source was named Premier Breeder of the show, while Oakfield Corners Dairy of Oakfield, N.Y., earned the Premier Exhibitor banner.
The Four-Year-Old Class boasted a deep group of 18 cows. In addition to Beth, both the Grand and Reserve Grand Champion of the Junior Show came from that class. Senior and Grand Champion went to Garay-Red Diamond-Red-ET exhibited by Landree and Dakota Fraley of Millmont, Pa., and Reserve was Jacey and Hadley Ross's cow, Arb-Flo-Spr Honeybun-Red-ET.
In the open show, the Intermediate Champion of what Judge Phoenix called a tremendous young cow show went to the winning Senior Two-Year-Old. She is Lookout Burning It Up-Red, bred and owned by Lookout and Elitehaven of Canton De Hatley, Quebec. The Reserve Intermediate Champion also went to Milk Source with their Senior Three-Year-Old, Milksource Tantrum-Red.
Tristen Ostrom of Kaukauna, Wis., had Intermediate Champion, Best Bred and Owned, and Best Udder of the Junior Show with his Junior Two-Year-Old, Milksource Awesome Time-Red, who stood second overall in addition to first junior. The top Senior Two-Year-Old, Schluter Atlanta-Red-ET exhibited by Matthew and Elizabeth Gunst and Evan Hathaway from Hartford, Wis., was Reserve Intermediate Champion of the Junior Show.
Heifers fill the ring
Among the 373 Red and Whites that Lundy and Jones sorted through on Wednesday and Thursday, 232 of those animals competed in the heifer classes. The winning Summer Yearling, North Effect Wa Tatas-Red, owned by Chris and Jen Hill and Tim and Sharyn Abbott of Thurmont, Md., was named Junior Champion of the group. Reserve went to Holzer Warrior Princess, exhibited by Westcoast Holsteins of Chilliwack, British Columbia. Their sire, Mr Blondin Warrior-Red, was Premier Sire of both the Heifer Show and the overall show.
W-Brook Hottest-Red earned the Junior Champion banner in the Junior Show for K. Hawvermale, N. and C. Spreng, and H. and T. Hinz from Wooster, Ohio. She first topped 45 other heifers in the Fall Calf class. Following her as Reserve Junior Champion was the first place Winter Yearling, Kress-Hill Spicy-Red-ET exhibited by Jacey and Hadley Ross of Delavan, Wis.
Owen and Kendyll Kress of Kress-Hill Dairy in Newton, Wis., claimed both Premier Breeder and Premier Exhibitor of the Heifer Show.
---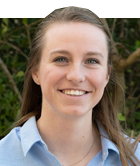 Katelyn Allen joined the Hoard's Dairyman team as the Publications Editor in August 2019 and is now an associate editor. Katelyn is a 2019 graduate of Virginia Tech, where she majored in dairy science and minored in communication. Katelyn grew up on her family's registered Holstein dairy, Glen-Toctin Farm, in Jefferson, Md.