It's the most wonderful month of the year! June is the one month where we get to specifically celebrate what we truly love. It's time to continue to share our world with others, but on a broader platform. It's by far my most favorite month as well! Ladies and gents, it's Dairy Month!
June is Dairy month, and I couldn't be more excited! Throughout the month, I post all sorts of facts about the dairy industry, cow stories, cooking clips, science experiments, and so much more. Sharing our world with the general public is my most favorite pastime! I love giving folks a "fun fact" or a new recipe to try. Being able to relate to the general public allows us to not only receive more recognition as an industry, but it also allows us to show the world our side of the plate. As farmers, it's important for us to share our story and not be afraid to talk.
This is a time for us to show the world our love for our farm, land, cows, and all things in between! We are dairymen and women and couldn't do this without our love and passion for all things dairy. Our cows are our number one priority in every sense of the word. We give our days, nights, and life to ensure they are safe, healthy, and cared for each day. It's time to share pictures of our girls being loved on and given the high-class treatment we always give. A simple picture of a cow in a fully bedded stall can reach hundreds of folks just because she is comfortable.
Don't forget the cheese! There are so many dairy products to promote. From fluid milk to cheese to butter to yogurt, we have a plethora of possibilities. Share recipes, ask which products they enjoy, and remind them how delicious it all is! We work hard year-round, and this is our month to shine. It's time to make this the best June ever and let the world know how wonderful we really are! Happy Dairy Month everyone!
---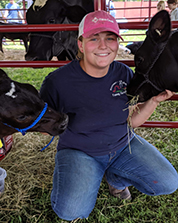 Courtney Henderson
The author is a sixth-generation farmer and fifth-generation dairy producer in southwest Virginia, where she and her family own and operate a 145-head Holstein dairy. Courtney is involved in agriculture organizations throughout her community and is a graduate of Virginia Tech.