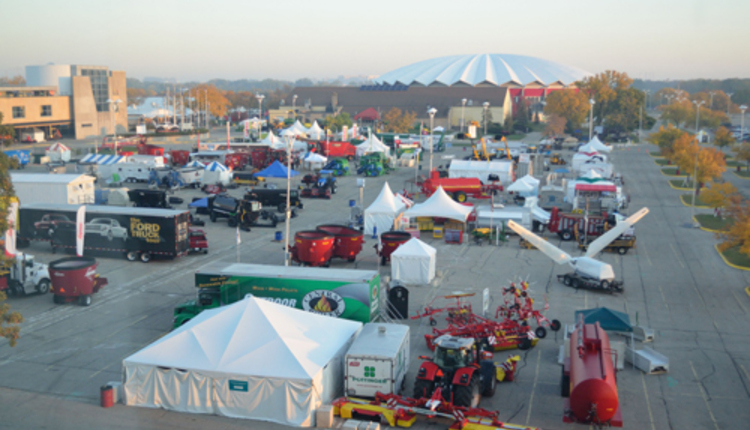 Saturday, October 8 marked the end of yet another World Dairy Expo for both commercial and registered dairy cattle enthusiasts. Eastside Lewisdale Gold Missy, a Canadian Holstein, took Supreme Champion with Reserve Supreme honors going to the Jersey, Pine Haven Ssm Marmie owned by the Sauder family of Tremont, Ill.
Supreme Champion of the Junior Show went to a different cow from the Sauder family, South Mountain Voltage Spice-ET. Reserve Supreme honors went to the Red and White, Ainger Advent Jessa-RED, with Britney Hill of Bristol, Vt. at the halter.
The commercial arena booth winners included Trans-Ova in the small category, Elanco for the medium-sized booths, and DeLaval for the large booths. Many companies also took the theme of Around the World in 5 Days in stride, with monster trucks, racecars, and airplanes present on the Expo grounds.
A new home for winning cattle
Cattle sale at Expo kicked off Tuesday with the Top of the World Jersey Sale. The sale included 30 lots that averaged $3,315. The top seller Family Hill Vindication Carnegie-ET sold for $7,500. Topping the World Ayrshire Event Sale was a pick from the flush of Steam-Valley Wilton Magic at $9,200. In total, there were 18 lots in the Ayrshire sale.
In the World Premier Brown Swiss Sale, Lost Elm Piranah-ET took top dollar, selling for $5,800. With a total of 29 lots, the sale averaged $3,867.24. Following the Brown Swiss show was the World Premier Milking Shorthorn Sale. The 10 lots averaged $3,530, with the high seller, Cherrywood Mega Mitzy, bringing $8,500. Concluding Thursday's sales was the International Guernsey Classic. The top lot, Knapps Aaron, brought $4,200. The sale averaged $2,196 with its 34 lots.
Friday evening in the show ring was a sight to behold, as some of World Dairy Expo's shining stars were paraded in the ring and literally sparkled. The top seller of the World Classic was Pesce Manga P Sarah-Red-ET, at $82,000. On its 43 lots, the sale averaged $27,295.
A record-breaking year
Each day attendance at Expo was tracked and reported. This year a few new attendance records were made.
Tuesday, 13,163 visitors were on the Expo grounds. There were 503 international visitors from 57 countries and over 800 companies exhibiting.
Wednesday, 12,342 visitors attended Expo. This was the best Wednesday since 2004. This number encompassed people from 61 countries.
This year Thursday has its best attendance in the last eight years at 13,601. There were also 1,549 international visitors from 81 countries included in that number from 84 countries.
Friday a total of 15,004 individuals came on the Expo grounds with almost 2,500 international visitors in attendance.
Without Saturday's attendance, 54,110 individuals came to the Alliant Energy Center to partake in the cattle shows and commercial exhibits.
Next year's Expo theme is Market Fresh.