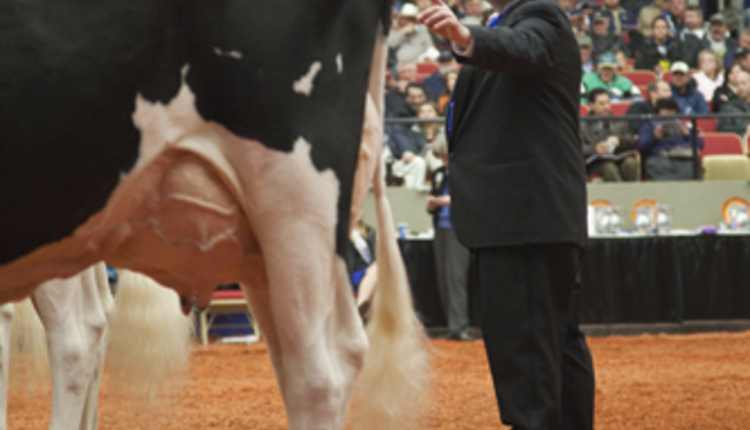 Having the exhilarating task of placing the International Holstein Show was Michael Heath of Maryland with the help of Associate Judge David Dyment of Ontario. Together they placed 392 Holsteins during the two-day show. Micheal's reasons for each class demonstrated his pure enjoyment of his official duties.
If you have never seen a Braedale Goldwyn daughter, you had the opportunity to see numerous progeny at the very top of nearly every cow class! Six cow classes were won by Goldwyn daughters, and two more were second in the 3 remaining classes. They also dominated the Top 10 placings.
Intermediate Champions of the International Holstein Show
Canada's EX-97 point cow, RF Goldwyn Hailey, was crowned Senior and Grand Champion at the 2012 International Holstein Open Show. This 6-Year-Old and Older class winner is exhibited by Gen-Com Holstein of Quebec. Another Goldwyn, Cookview Goldwyn Monique took Intermediate and Reserve Grand Champion honors for Jeff Butler and Joe & Amber Price of Illinois.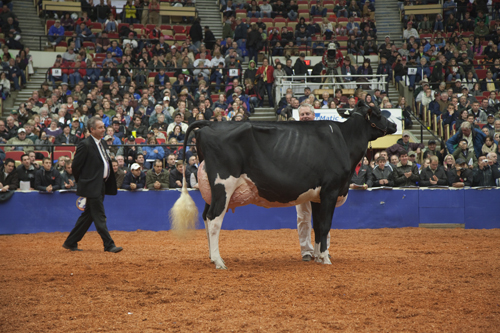 Intermediate Champion of the International Holstein Show – Monique
Reserve Senior Champion was Boulet Goldwyn Chalou. She was also selected Best Bred and Owned of the Show for Ferme Boulet, Ferme Vilmer and Pierre Boulet of Quebec.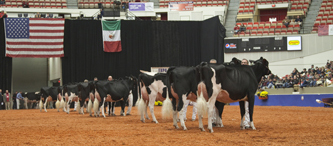 Intermediate Champion contenders at the International Holstein Show
Reserve Intermediate Champion Female was Butz-Butler Gold Barbara-ET exhibited by Budjon Farms of Wisconsin and New York's Peter Vail.
Quebec exhibitors took home both the Premier Breeder and Premier Exhibitor banners. Ferme Jacobs won the Premier Breeder honor and Gen-Com Holsteins earned the Premier Exhibitor award. Both are repeat winners from last year's International Holstein Show.
And no surprise to anyone at ringside, Braedale Goldwyn was named Premier Sire at the 2012 International Holstein Open Show for the fifth consecutive year.
Paternal sisters by Aftershock take home the Junior Champion titles.
Junior Champion Female was Lafontaine Aftershock Arrie owned by Westcoast Holsteins of British Columbia, who also won the Junior Champion of the Red & White show the day earlier. Jaslyn Aftershock Avila was tapped Reserve Junior Champion Female for Gerald Halbach (Arizona) and Lookout Holsteins (Canada), Purple Fever (New York) and Frank and Diane Borba (California).
Standing all day to watch the show is the price one pays for the best view
If you wanted to see the 2012 International Holstein Show, getting an early start was key. Seats with great views of the cows were in high demand and low availability. Thirty minutes before show time, garnered you "30 yard line" seats – still close enough to enjoy the spectacular view of the cows that paraded in front of a world-wide crowd. Fortunately, large overhead screens gave all in attendance in the coliseum a bird's eye view of the cattle. The show was also broadcast in some of the cattle barns for exhibitors to follow the show's progress.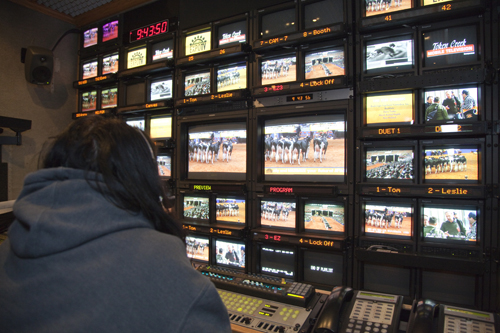 Behind the scenes to transmit the classes to attendees and those at home