America's top dairy county was host to 30 teams from Universities across North America last week at the annual
North American Intercollegiate Dairy Challenge.
In the end it was the home-field advantage Cal Poly along with Cornell, Ohio, and the University of Wisconsin-Madison that were honored with top platinum awards and are shown in the photo below.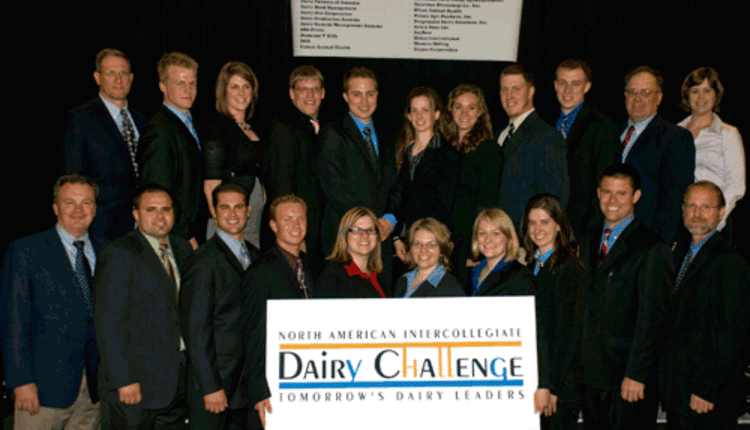 Back row (L to R), Cornell University; Mike Van Amburgh, coach; Brett Feldpausch; Breanna Fulper; Chad Wall; Shane Reynolds; University of Wisconsin-Madison; Lydia Hardie; Ashley Sprengeler; Melvin Zenner; Robb Bender; David Combs, coach; Lizzy French, coach. Front row (L to R), California Polytechnic State University, Stan Henderson, coach; Brian Medeiros; Anthony Martin; Michael Wesselink; Katherine Rector; The Ohio State University; Amanda Paulhamus; Annie Eilenfeld; Heather Moff; Ryan Conklin; Maurice Eastridge, coach
The 30 four-member teams were divided and sent to four outstanding Tulare county farms to conduct a whole-farm evaluation on Friday. Team members had only a few hours to evaluate the entire farm on-site. Plenty of farm records were also made available to each team in addition to having a short amount of one-on-one time with the farm's owner. The teams critiqued and complimented each of the dairies strengths and areas with room for improvement. After an entire afternoon of work time on Friday, teams presented to the farm owner and a panel of judges for 20 minutes on Saturday. Teams were then awarded based on their presentation.
Teams receiving a Silver Award included the University of Alberta, California State University - Fresno, Kansas State University, Louisiana State University, University of Maine, North Carolina State University, University of Vermont, Washington State University and University of Wisconsin - Platteville.
Teams receiving a Gold Award included Alabama A&M University, Delaware Valley College, University of Florida, Iowa State University, University of Kentucky, University of Minnesota, Mississippi State University, Purdue University, Virginia Tech, and the University of Wisconsin-River Falls.
Teams receiving a second place Platinum Award included the University of Guelph, University of Idaho, Penn State University, and South Dakota State University.
One other remarkable aspect of the contest was the overwhelming support and presence of industry. Contest volunteers and representatives from countless dairy companies were all on hand to assist with the contest and meet contest participants. You can find a list of the
Dairy Challenge's sponsors on their website.
Next year's contest is set to be held in North Carolina. Be sure to watch here for the results of next year's contest in early April!
And remember, today is Tuesday! That means you can head over to the
Bonnie's Brush with Hoard's blog
for an update on the Foster Mothers of the Human Race painting.