The author is a University of Minnesota graduate research assistant and partner in his family's farmstead cheese business, Redhead Creamery, Brooten, Minn. He is also a former associate editor for Hoard's Dairyman.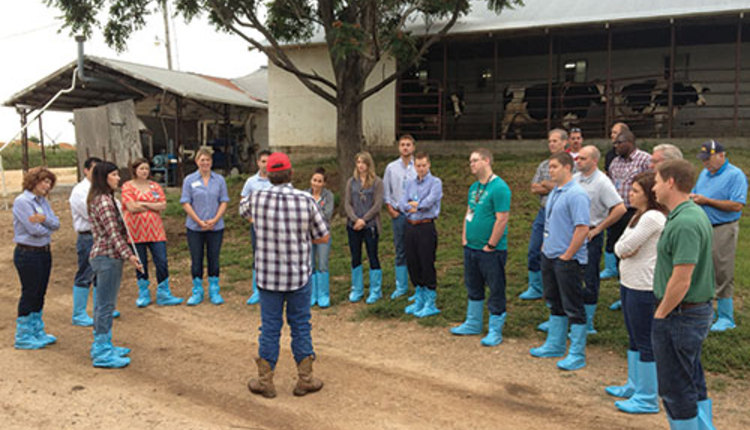 Walmart staff were amazed to learn that, at 300 cows, the Anglins' herd size is twice the national average. They had a perception that most dairy farms were much larger.
Quality and price are the quintessential elements retailers use to judge the products they'll sell. But Walmart, and other retailers, are adding sustainability to the mix as consumer views change.
Triple A Farms milks 300 cows twice per day in a location now completely surrounded by the city limits of Bentonville, Ark. "The only way Bentonville can grow is over the top of me," explained Ryan Anglin.
Anglin, his wife, Susan, and their sons are a fifth-generation farm on Anglin Road, making them a bit of a legacy in the area. Just six miles away is the home office of another area legacy, Walmart.
The Anglins strive for quality milk and profitability. Similarly, Walmart purchases products based on two criteria - price and quality. But both family businesses continue to adapt.
Tale of two tours
Anglin is no stranger to dairy promotion, serving as past chair of the National Dairy Board and currently serving as vice chair of the United Dairy Industry Association, the two boards that oversee Dairy Management, Inc. (DMI). He sees the value of collaborating with customers, and often invites consumer and school groups to the farm. Walmart team members have visited the farm twice, first several years ago and again in August 2013.
The first time, it was a tour with a few Walmart milk buyers curious about how a dairy farm works. Last year, the visit was viewed through the lens of sustainability and for good reason; Walmart is adding a third criterion to its purchasing decision tree in 2014: sustainability. Other retailers are following suit, and if the dairy industry wants to compete, sustainability needs to be a focus.
"We don't think customers should have to choose between products they can afford, the products they love and the products that are good for the environment," explained Jeff Rice, a Walmart director of sustainability. "We think we have a responsibility to, on our customers' behalf, collaborate with all our suppliers to make sure we improve the sustainability of the products we are putting on our shelves."
Walmart has three public sustainability goals. First, they want to be supplied by 100 percent renewable energy. Second, they want zero waste from their stores. Third, they want to sell products that sustain people and the environment.
That third part is Rice's job to oversee. "Our company's goal is to save people money so they can live better," Rice said. "We try to reach customers' expectations of products that don't cause undue harm to the environment and are produced in a way that we will be able to continue to produce and sell those products far into the future around the world."
To show the Walmart dairy buyers what sustainability looks like on their farm, the Anglin family worked with the farm's suppliers and customers to get a team ready to greet the visitors. "We set up stations around the farm with a semen tank and our A.I. company rep, USDA-NRCS, our veterinarian, nutritionist and co-op leaders," Anglin recalled. "I wanted to present the circle it takes to run a farm in Arkansas next to Walmart."
Some of the Walmart team stayed for over three hours, while others had to get back to work earlier. "I always judge a visit on how quickly people run to the door," Anglin said. "When we had people staying to tell family stories, I felt like we hit a home run."
First in the field
Sustainability efforts are coordinated by the staff at the Innovation Center for U.S. Dairy. Erin Fitzgerald, senior vice president, Sustainability, worked for two years to set up the visit at Triple A Farms. But the efforts started years earlier, when Walmart began talking about the sustainability of milk and other products in 2007. By June 2008, checkoff leaders and Fitzgerald had organized a sustainability summit in Bentonville with over 200 attendees from all ends of the supply chain.
Since that initial meeting, Fitzgerald and the team at the Innovation Center have developed the dairy industry's "Stewardship & Sustainability Guide." In 2012, it went through an internal review with dairy cooperatives and processors. In 2013, an external review allowed nongovernmental trade groups, retailers like Walmart and government agencies to comment on the piece. The stewardship and sustainability guide is on track for a 2014 release. The guide is one tool in the effort to demonstrate the dairy industry's progress to consumers who are increasingly interested in where their food comes from and how it was made.
Farmers will score themselves on sustainability. The score will remain confidential unless the farmer chooses to share it. While your farm may earn a sustainability score, Fitzgerald says sustainability isn't farm versus farm or processor versus processor. It's about continuous improvement over time. "Every farm, every soil is different," Fitzgerald insists. "You really can't compare one farm against another, but you can talk about how you're improving, and we can talk about everyone's improving."
Cooperatives and processors will roll their farms' scores into averages, turning that average over to retailers. At Walmart, Jeff Rice explains that products are categorized like a traffic light, with signals of green, yellow and red. "At some point, we'd like to engage customers with it, but we're focused on rolling it out internally now," he said. "I think there's a growing population of consumers who want that information."
Now in their seventh year, the dairy industry's sustainability efforts were actually the first of any industry attempting to quantify an entire supply-chain's sustainability efforts.
"It was really the dairy industry's leadership to be the first that really brought the industry together," said Rice. "In doing so, the industry said, Sustainability is important to the livelihood of our industry, it's important to our customers moving into the future, and it's important to our ability to produce and continue to sell nutritious products to customers into the future,'" Rice noted.
Farm to front office
To take the concept from Walmart offices to the dairy, Fitzgerald knew the tours would be essential from the start.
"As they try to understand and see sustainability metrics," Fitzgerald explained, "they're really living on a piece of paper. It's black and white. They don't see, smell and experience what sustainability means on a biodynamic farm, and that things change on a day-to-day basis as the weather changes," said the Innovation Center for U.S. Dairy specialist. "We felt strongly that we had to get them out of the office and experience sustainability in reality on a farm."
But Fitzgerald notes this isn't just about Walmart, "It's about all the retailers and customers. Maybe, over time, we'll talk to health professionals, chefs and others."
Fitzgerald says it's also not about retailers pulling milk or dairy products off their shelves, "Companies fight very hard to have an end cap' or promotion of the category. We want to be sure that when Walmart is talking to consumers about what sustainable products look like, dairy is always front and center."
Anglin, whose bedroom window is lit up by a Walmart warehouse every night, recommends that other farmers should take similar opportunities as they present themselves.
"It doesn't matter if it's Walmart, Target or Hy-Vee," Anglin said. "It's a team effort. If we don't reach out and do this, then they're going to say what they want to say, and they're going to project what they want to project.
"You can't change the world from the outside looking in. You've got to change it from the inside looking out."
This article appears on page 279 of the April 25, 2014 issue of Hoard's Dairyman.