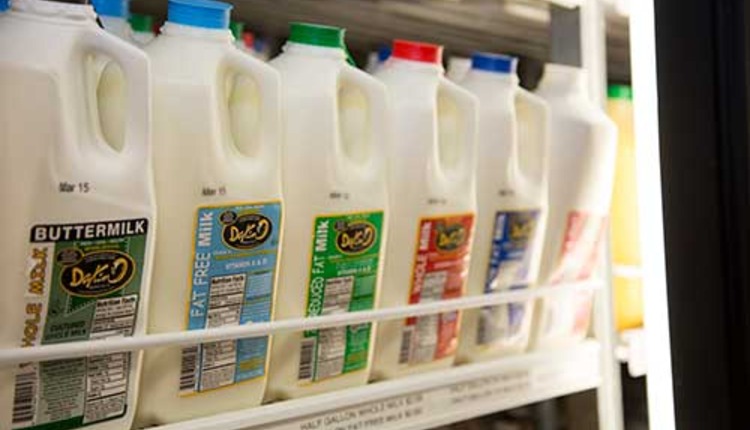 Dairy farmers' share of what consumers pay for dairy products at the grocery store plummeted to a mere 29 percent in 2015 after reaching 38 percent just one year earlier.
Last year's 29 percent of the food dollar represented the lowest share of consumer spending since the 2008 to 2009 era when farmers garnered only 24 percent of the retail food dollar, according to data from USDA's Economic Research Service.
When viewed another way, that means every time a consumer spent $10 at the grocery store on dairy products, farmers received $2.90 from dairy product sales in 2015. The remainder of the money went toward processing, transportation, retailers, and other vendors in the supply chain.
In making that calculation, economists poured through data from the Bureau of Labor Statistics to determine who gets what share of the money from consumer purchases.
Not all dairy products were equal, as some products return more or less to those producing the milk.
On the high end, dairy farmers received 48 percent of the retail food dollar for whole milk. The previous high was 61 and 54 percent posted in the two previous years. Meanwhile, the lowest return to dairy farmers for whole milk over the past 15 years was 2006's 41 percent.
Cheese tends to mirror the entire dairy basket . . . dairy farmers netted 29 percent or $2.90 for every $10 spent by consumers. The category topped out in 2007 when there was a 39 percent return to dairy farmers.
Ice cream represented the low point among dairy products with only 18 percent going to farmers who produced the milk. The lower farm share of ice cream is linked to the nondairy ingredients and further processing of the product. Like all other dairy product categories, 2009 also was the low point for ice cream at 12 percent.
Dairy farmers' share of the retail food dollar tends to track higher during high milk prices. Of course, 2014 represented one of the best milk price years in modern dairy history. The last time the share of money returned to dairy farmers trended this high was 2007 and 2008. Those years recorded 35 and 32 percent, respectively.
For another comparison, fresh vegetable returned 25 percent to farmers while fresh fruit netted 35 percent. Unlike dairy, those numbers showed less volatility. From 2000 to 2015, fresh vegetables ranged from 23 to 28 percent; fresh fruit, 25 to 36 percent; dairy, 24 to 38 percent.
To
review the actual data sets,
click the link.
To comment, email your remarks to intel@hoards.com.
(c) Hoard's Dairyman Intel 2016
July 11, 2016