The information listed below has been supplied by dairy marketers and other industry organizations. The information provided here has not been edited, verified or endorsed by Hoard's Dairyman.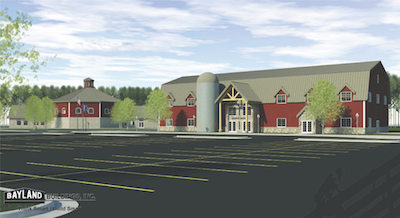 The Wisconsin Agricultural Education Center (WAEC) has officially broke ground on a world-class, interactive discovery center that will focus on sustainable and responsible farming practices. The groundbreaking ceremony was held at the center's future site near Newton at the intersection of Hwy 43 and County C in Manitowoc County.
As part of the groundbreaking ceremony, leadership from the Farm Credit System enthusiastically announced today they will support the center's capital campaign with a $550,000 gift. The following organizations from across the country came together to make this generous investment:
• AgriBank
• AgCountry Farm Credit Services
• AgStar Financial Services
• Badgerland Financial
• CoBank
• GreenStone Farm Credit Services
• United FCS
Dave Armstrong, President and Chief Executive Officer, GreenStone Farm Credit Services, represented the Farm Credit System at the event. "The future of our industry depends on a well-informed public and an appreciation for the important role agriculture plays in all our lives. The Farm Credit System is committed to the prosperity of rural communities and agriculture across our great country, today and tomorrow. Together, these five Farm Credit associations and two System funding banks are proud to make this investment in the Wisconsin Agricultural Education Center. It is an opportunity for us to carry out our commitment, and we could not be more proud to support this valuable educational asset."
"This generous, collaborative, gift marks 80% towards our $13 million fundraising goal," said Nic Schoenberger, WAEC board vice president and a Wisconsin dairy farmer. "We are grateful for this partnership with the Farm Credit System, a long-standing, trusted resource so many hard-working agricultural leaders have relied upon to successfully run their businesses," Schoenberger continued.
Today's groundbreaking marks a significant step towards making this project a reality. Construction is anticipated to go through 2017 and WAEC leadership are planning to celebrate a grand opening in spring of 2018. Once open, WAEC will provide visitors with the opportunity to connect with agriculture through a better understanding of where their food comes from and the tremendous impact it has on their lives and on those of everyone committed to healthy living and a healthy world. The Center expects a wide array of visitors from every generation – from school groups to families to travelers — across the country.
"It is quite an honor to break ground today with so many generous, visionary industry leaders who share our passion to tell agriculture's important story. To count the Farm Credit System among our top donors to our capital campaign makes today even more meaningful," said Melissa Bender, WAEC Executive Director. "To recognize their incredible support, the Exhibit Theatre within the Discovery Center will be named in the Farm Credit System's honor."
More on Farm Credit System:
Farm Credit supports rural communities and agriculture with reliable, consistent credit and financial services. With a national footprint, our lenders are local – nearly 75 independently owned and operated Farm Credit organizations provide services in the communities where they live and work. Each local Farm Credit organization is a
cooperative
that is owned by its customers, and has a deep understanding of agriculture in their area. This expertise enables them to understand the industry sectors they finance and provide an unparalleled level of knowledge and service to their borrower-owners.
Combined, Farm Credit organizations provide
more than $235 billion
in loans, leases, and related services, which is more than a third of the credit needed by U.S. agriculture. This capital helps nearly 500,000 borrower-owners plant and nurture seeds, purchase and care for livestock, buy land and equipment like harvesters and combines, build barns and milking parlors, and expand storage, packing and processing facilities. Our capital also finances agricultural cooperatives, communications, electric, power and water providers that deliver essential infrastructure services to America's rural communities.
More on the Wisconsin Agricultural Education Center:
The Wisconsin Agricultural Education Center will be a state-of-the-art agricultural education center located in Manitowoc County. It will provide visitors with the opportunity to connect with the industry by better understanding where their food comes from, and why agriculture is so important to them. The center will include a discovery center that features hands-on learning opportunities through a wide variety of displays, and the exciting option to tour the Grotegut Dairy Farm, which focuses on sustainability and best farming practices while milking 2,400 cows three times a day. A highlight for visitors will be the chance to view the birth of calves from the Grotegut Dairy Farm at the Center's Birthing Barn.