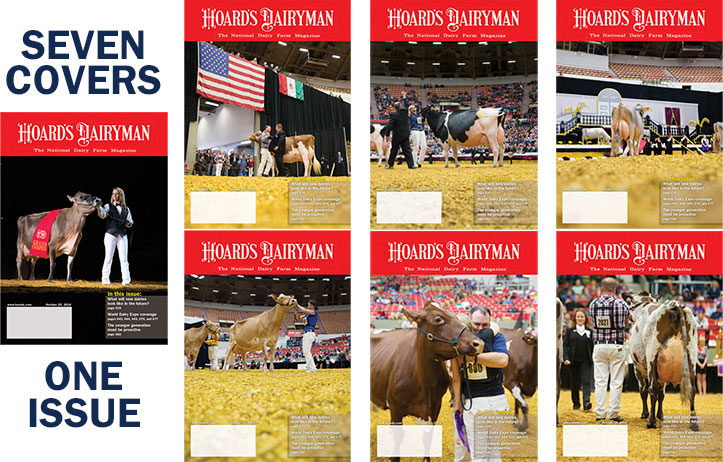 When the October 25, 2016, issue of
Hoard's Dairyman
arrives in your mailbox, take an extra close look at the cover. Every subscriber will see a Grand Champion from World Dairy Expo . . . but not everyone will see the same breed.
Hoard's Dairyman Art Director Ryan Ebert wanted to do something special for the 50th anniversary of World Dairy Expo. An idea that formulated a year ago to create seven different covers for the World Dairy Expo follow-up issue became a reality, and each of the seven breed champions that paraded across the colored shavings is featured on a cover.
Which image did you receive?
Wishing you had a copy where your favorite champion is gracing the cover?
Check with your friends and neighbors. Maybe you can trade!
A limited number of additional issues are also available for purchase. Cost is $8 per issue, which includes tax and shipping. An entire set of reprints, including all seven covers, is available for $35, including tax and shipping. Rates will vary for international orders. Call 920-563-5551 to place your order.
Want to learn how these split run covers were created? Read more about the process and vote for your favorite cover in this HD Notebook blog, "Seven covers for seven champions."
You can also watch the following video to see the magazines coming hot off the press!

(c) Hoard's Dairyman Intel 2016
October 24, 2016