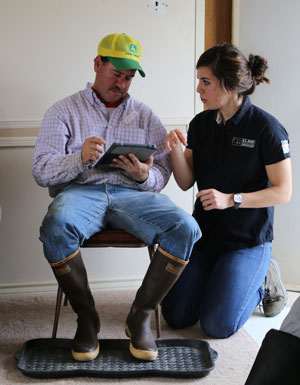 As dairies become larger and employ more workers, employees generally have less experience working with modern dairy operations. As this situation has unfolded, dairy owners have become more dependent on front-line supervisors to effectively manage the larger workforce. This shift has led to a higher risk of fatalities, injuries, and work-related musculoskeletal disorders (MSDs) due to task specialization, challenging work demands, and hazards.
As a result, owners are increasingly seeking supervisors who demonstrate effective management and leadership skills. However, an additional reality on dairy farms is the lack of effective leadership and management skills among front-line supervisors: workers are often promoted to leadership positions because of demonstrated proficiency skills for their current role, not because of leadership or management abilities needed in a supervisory position.
This "Peter Principle" approach often leads to ineffective supervisory performance, especially related to safety matters.
The goal of one of our latest projects is to reduce injuries and fatalities among a vulnerable workforce on dairy farms. We are accomplishing this goal by integrating a safety leadership model in dairy farm enterprises.
The central hypothesis of the proposed research is that a targeted leadership and management training intervention will yield improved safety practices among dairy supervisors. A secondary hypothesis includes improved safety climate and behavior among workers. The underlying goal is that improved supervisory safety leadership and management will translate into a reduction of injuries and fatalities among workers.
The proposed research is innovative because it will be the first to operationalize an integrated safety leadership and management model in U.S. dairy operations. It will employ novel and innovative intensive longitudinal data collection and analysis methods using mobile technologies that have not been utilized in occupational safety research in agricultural settings. This study builds upon extensive High Plains Intermountain Center for Agricultural Health and Safety (HICAHS) research and outreach in the dairy industry over the past 15 years. Click here for more information.
(c) Hoard's Dairyman Intel 2017
January 9, 2017