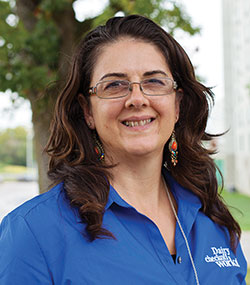 I
have to admit, I have a love-hate thing going on with exercise. I love the way I feel when I exercise, but it takes a tremendous amount of dedication, time, and energy for me to stick with a program.
This winter was exceptionally bad. When I had shoulder surgery, I was limited to the amount of activity. That, paired with the indulgence of holiday goodies, means that I gave into temptation more than I practiced discipline. It was easier to just loosen my belt, notch after notch.
Recently, I have become much more intentional about taking my belt the other way and tightening the notches. Unfortunately, it isn't something that happens overnight. It takes time and more attention to the detail of what I consume. Don't worry, I still say "yes" to ice cream, just not every night.
With this in mind, I fully understand the expression "tightening the belt" as it refers to our farm's spending. Especially after the year we just had where there was more time spent tightening the belt than letting it go.
There are a few things that Duane and I have learned over the years that have become the "notches" in our dairy belt. These lessons help us to firm up our finances.
Any time I talk to Duane about a purchase, large or small, he will ask, "What's it going to cost?" He has always been frugal, but after enduring some rough and learning years, his question is a given. Checking prices on equipment, feed, and supplies is a standard operating procedure on our farm.
His grandfather used to tease, "It only costs a little more to go first class." We always chuckle when remembering that saying because when it comes to dairy farming, first-class items are not typical. There often is a generic product that compares in quality but is less expensive. Every little saving adds up to a much bigger pile at the end of the year.
During the really rough years, we went to extreme measures to manage every penny. There was a year that I made payment sheets from our accounts payable list. I listed the milk check amount at the top of the list and determined how much of each bill we could pay that month.
Then Duane and I would start making phone calls. They were never easy phone calls to make, but I soon realized that it was better to make the call to the feed company and let them know how much we planned to send rather than have the feed company call me and ask for an amount. I found that the businesses were more agreeable and patient with the proactive approach. It showed them that we had a plan, and that went a long way in the relationship.
Being in proactive mode also helped us when we had months that we asked them to wait for a payment. The extra communication added a trust factor, showing vendors that we were paying attention.
Another notch was also tightened as we delved deeper into understanding the where, how, and why of our finances. We became familiar with our costs of production and still keep that number up to date. I also started bracing our checkbook for the seasonal costs like chopping and real estate taxes.
Recently, I had a discussion with a farmer from Texas. We talked about our farms and the direction of the industry, and then he asked me what the debt per cow was on our farm. He was curious how they compared.
There are a lot of factors that feed into both debt per cow (DPC) numbers and cost of production (COP). Equity value, land prices, expenditures, and capital improvements are just some of the contributors.
My friend told me that when he first started farming, his banker told him to keep his debt per cow to about $1,500, and he stuck to that over his many years of successful farming. That is commendable, especially over the many years of prices that rise and crash as quickly as the waves in the ocean.
We compared financials, and I soon discovered that land prices, building structures, and input costs are very different in the flats of Texas than the rolling hills of Pennsylvania. Our COP and DPC may vary, but our common denominator is that we both manage our financials and pay attention to the details that feed into those numbers.
This year, we are making major capital improvements on our farm, and I realize our DPC is going to change. I am okay with that. "Debt is a tool" was advice we received from a successful farmer in our early years of farming. We just need to manage that tool wisely.
Like my body, having a healthy farm means that I need balance. I do not want a farm that is so skinny that we are gaunt in production, breeding, and genetics. I also don't want a waistline on our dairy that is bulging over the efficiency. I need to continue on the track of intentional management, and no matter what kind of "goodies" are in front of me, I need to keep the belt tight. Now, if you'll excuse me, I have an appointment with the treadmill.
Common Threads is a regular column in Hoard's Dairyman. The author and her husband, Duane, own and operate a 550-cow dairy in Cochranville, Pa.