The ninth annual Robert "Whitey" McKown Master Breeder Award will be presented to Wendon Holsteins of Innisfail, Alberta, Canada, at the 51st World Dairy Expo in Madison, Wis. The prestigious award recognizes a well-managed breeder and herd that has been successful at showing and judging, and it emphasizes all the qualities of the Klussendorf Award, including ability, character, endeavor, and sportsmanship.
Established in 1976, Don and Wendy Chalack combined their interests and passions to form their prestigious herd that features 65 milking Holsteins and a small herd of purebred Black Angus on 900 acres just outside of Innisfail. Don and Wendy farm with their son-in-law Scott Hastie and daughter Jillian and their children, Marshall and Maddyn. Oldest daughter Linsey and her children, Paige and Nathan, help out when they can, and both children are involved in 4-H. Don and Wendy's son, Logan, who was known for his love of breeding and marketing cows, lost a battle with cancer in July 2016. Fortunately, Logan's wife, Charity, and daughter, Chloe, still live close by.
Starting with a 50-cow tie stall operation in 1976, the herd recently converted to a 60-cow freestall robot barn in 2015 with 12 tie stalls for show cows. The original tie stall barn is now a more efficient and spacious calf barn. The herd is 90 percent homebred with a classification breakdown of 24 Multiple Excellent, 15 Excellent, 62 Very Good, and six Good Plus cows. Their current rolling herd average is 27,557 pounds of milk, with 4.0 percent fat and 3.3 percent protein. Wendon Holsteins has bred 14 All-Canadian nominees and received two Holstein Canada Master Breeder shields in 1995 and 2008.
Don served as the Alberta Holstein president in 1989 and 1990 and as a director on the Alberta Holstein Branch from 1980 to 1992. He was also one of the founders of the Western Canadian Classic program 33 years ago. In addition, Don joined with a few neighboring herds in the early 1980s to bring the first show string from western Canada to World Dairy Expo. Passing on their love for cattle and hard work ethic, their three children were a part of dairy and beef clubs and the Western Canadian Classic junior show.
Their breeding philosophy is based on cows with deep pedigrees and show type. Wendon Holsteins has bred 55 Star Brood cows (13 of those being greater than 4*), 102 Excellent cows, and 391 Very Good cows. The Wendon prefix has also won numerous recognitions in the All-Canadian contest with two winners, two Reserves, six Honorable Mentions, and four more nominations. In addition, they have bred one All-American winner.
Prominent cow families in their herd include Wendon Triump Alaska EX-91 2E 4*, Wendon Gibson Prudence EX-92 5E 5*, Wendon Starbuck Renette EX 3*, Wendon Triump Divine EX-94 4E 7*, and Tolamika Goldwyn Mercedes EX-94 2E. Wendon Goldywn Allie EX-95 2E, daughter of Alaska, gained popularity after winning first-place 5-year-old at the Royal Winter Fair and World Dairy Expo in 2012, as well as All-American and All-Canadian for owners Ferme RayDor.
The Chalack family is the epitome of dedication, strength, and a love for cattle that make them a deserving winner of the McKown Master Breeder Award.
---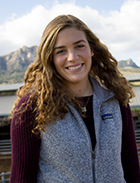 Elise Regusci grew up on her family's farm in Modesto, Calif. Regusci attends Cal Poly University, majoring in dairy science with an agricultural communication minor. On campus, she is the Los Lecheros Dairy Club Ag Council representative and a member of the Cal Poly dairy judging team. Regusci is the current Brown Swiss Youth Ambassador and was the 2017 Hoard's Dairyman summer editorial intern.