The information below has been supplied by dairy marketers and other industry organizations. It has not been edited, verified or endorsed by Hoard's Dairyman.
>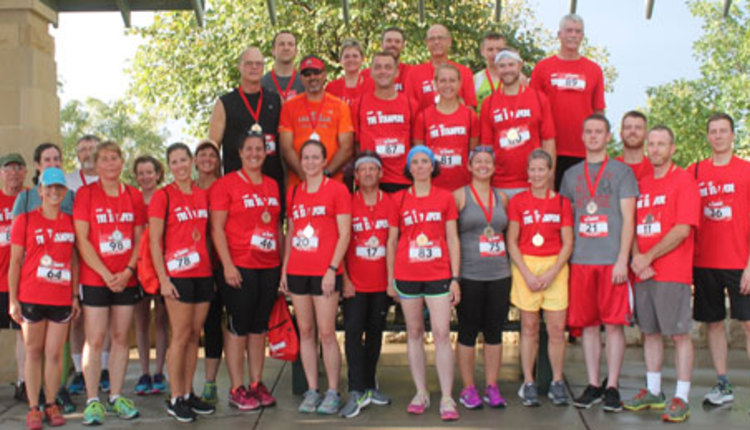 Miller's Landing near Omaha, Nebraska, experienced a herd of running cattle veterinarians in the fifth annual AABP 5K Stampede. The race was sponsored by Triangle® killed viral vaccine from Boehringer Ingelheim, and held at the American Association of Bovine Practitioners (AABP) 50th Annual Conference on Sept. 16, 2017. The event raises funds to support the AABP Amstutz Scholarship for bovine veterinary students. In all, 132 bovine veterinarians and veterinary students from nearly all 50 states and six countries supported this year's 3.1 miler.
The event raised over $7,000 for the program, which supports veterinary students pursuing food animal medicine and honors Dr. Harold E. Amstutz, a pioneer in fostering bovine veterinary organizations.
This year, eight students were awarded a $7,500 scholarship at the convention. "The AABP 5K Stampede, sponsored by TRIANGLE, continues to be an enjoyable and great way for us to help support the Amstutz fund," said Dr. John Davidson, DVM, past president of AABP and senior associate director of beef cattle professional services at BI. "We're looking forward to finding ways like this to support veterinary students throughout school and their career."
ABOUT BOEHRINGER INGELHEIM
As the second largest animal health business in the world, Boehringer Ingelheim is committed to improving animal health. With more than 10,000 employees worldwide, Boehringer Ingelheim Animal Health has products available in more than 150 markets and a global presence in 99 countries. For more information, visit
Boehringer Ingelheim Animal Health
.
Boehringer Ingelheim
Innovative medicines for people and animals have for more than 130 years been what the research-driven pharmaceutical company Boehringer Ingelheim stands for. Boehringer Ingelheim is one of the industry's top 20 pharmaceutical companies and to this day remains family-owned. Day by day, some 50,000 employees create value through innovation for the three business areas human pharmaceuticals, animal health and biopharmaceutical contract manufacturing. In 2016, Boehringer Ingelheim achieved net sales of around 15.9 billion euros. With more than three billion euros, R&D expenditure corresponds to 19.6 percent of net sales.
Social responsibility comes naturally to Boehringer Ingelheim. That is why the company is involved in social projects, such as the "Making More Health" initiative. Boehringer Ingelheim also actively promotes workforce diversity and benefits from its employees' different experiences and skills. Furthermore, the focus is on environmental protection and sustainability in everything the company does.
More information about Boehringer Ingelheim can be found on www.boehringer-ingelheim.com or in our annual report: http://annualreport.boehringer-ingelheim.com.