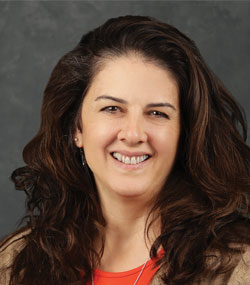 I was told several times in my youth to "dream big." I do not remember having a ton of aspirations, but I know that one of my childhood dreams came true. I put my mind to marrying a dairy farmer, and I got all that I asked for when I married Duane.
My other dreams never came to fruition. Then again, I really can't see myself barrel racing in the rodeo, being a football cheerleader (only because I knew I wouldn't be allowed to play on the field), or on a professional roller derby team.
As silly as those childhood desires are, I still agree that it is healthy to have high ambitions. And at least one of them panned out as a legitimate goal.
Vic and Cheryl are two of our favorite people; as dairy farming friends, we understand each other and always find something to make us laugh. One of Vic's favorite lines is that he is "living the dream." Even on days when the issues are high as the barn roof, Vic claims to be living the dream of dairy farming.
Cheryl just rolls her eyes and shakes her head, knowing full well that he is giving us a line that is deeper than a pile of manure. We all know that farming is not a fantasy lifestyle; Vic and Cheryl just figured out how to make life lighter in a sometimes difficult situation.
When it comes to letting your imagination run wild, World Dairy Expo has to be one of the biggest dream gardens in the history of cow shows.
The stargazed look is on every person who stands and sits in the arena, intently watching, taking notes on the sires they admire, and thinking some day, some way, they will have an animal like that in their barn.
Dreams are part of the process that keep dairymen coming back year after year and ideas are planted the entire week of Expo; finding next year's 3-year-old that will steal the show and breeding a pair that will produce a perfect heifer calf.
The owners also have specific plans for training, grooming, and feeding the animal that starts months and possibly years earlier. I am sure that before its hooves touched the ground, the owners envisioned it in the grandest of shows.
Of course, Expo is not all about cows; Duane finds plenty to dream about in the equipment lot. Equipment vendors have a way of enticing these visionaries and use the week as a time to unveil their latest and greatest technology.
Colin Powell says, "A dream doesn't become a reality through magic; it takes sweat, determination, and hard work."
I don't know of a better comparison to this quote than the dairymen and dairywomen who grace the colored shavings. Each person and animal in the ring earned a right to be there, and it did not come by the flick of a wand. It came about with sweat, determination, and a ton of hard work.
Some of our dreams are individual efforts. But from what I can see, showing cattle takes a team of people from all skill levels and ages, and every showman has a strong crew behind them.
Just watch as they walk the cows from the barn to ringside. There is one at the halter, sometimes there is one at the side, and there is always one behind the animal with a bucket or tub, ready for every moment. If you follow the animal back to the show string, you will find more crew members who have been maintaining the pack the entire time.
I remember one particular year at Expo the rain came fast and furious. Getting the animals from the barn to ringside proved to be quite the challenge. The dairymen did not let a little rain get in the way of their dream. They just expanded the team and held umbrellas and tarps over the animals as they made their way to the shavings.
No doubt, we all have goals for our dairy farms, and we all hit bumps in the road that make us second-guess our decisions or divert us to take another route. A diversion usually means that we add more effort.
A few years ago I heard a farmer say that in tough times, he just worked a little harder, and it all panned out. Recently though, he said that is not the case. Farming takes more than just digging in our boots and forking life a little harder. He now acknowledges that it takes a lot of business sense to keep us strong.
In other words, the dream has to logically fit into the business side of the farm. The idea has to offer progression, move the farm forward, and make improvements.
Obviously, there needs to be balance, and maybe that is what Powell was trying to point out; living with our head in the clouds does not feed the cows, milk the early morning shift, or till the cropland. But our improvements do come from ideas that start with our imagination. And it is fun, worthwhile, and healthy to ask, "What if?"
Common Threads is a regular column in Hoard's Dairyman. The author and her husband, Duane, own and operate a 550-cow dairy in Cochranville, Pa.