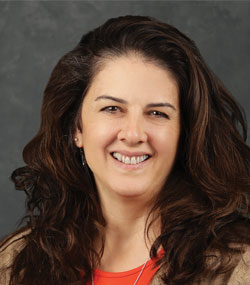 When we give water to the pens in our calf barn, we do this by filling a 30-gallon tub using a hose. On days when that is my task, I end up tucking the water hose into the tub, letting it fill on its own. I come back and check on it every couple of minutes to see if it is time to move the hose to the next tub.
There are 17 to fill, and I do not have enough patience to stand at each one and hold the hose. I can get a lot of little things done in between tubs. The problem arises when I forget or get distracted, and when I get back to the container, it is full and water is running over the top.
My heart feels like that overflowing water tub right now, after a week at World Dairy Expo. There is gratitude pouring out of me. In fact, I do not know if there has ever been a time that I have been more grateful and felt more blessed.

When I got the phone call in March that I would receive the World Dairy Expo Woman of the Year Award this fall, I really did not process the depth of the honor.
As World Dairy Expo week approached, the excitement started to build. We found out that our four children and their families would be able to make the trip across the country for the award. This is not an easy feat with a son in Los Angeles; one in the military who right now is in Georgia; a son, daughter-in-law, and newly arrived granddaughter in Montana; and a daughter with family in Pennsylvania. Aside from that, both my parents and Duane's parents were able to attend. A family reunion at Expo was the icing on the cake.
Quite frankly, I found myself humbled and at a loss for words during most of World Dairy Expo. Those who know me know that does not happen. Ever.

One thing that left me so speechless is looking over the names of women who won this award prior to me. I am amazed and humbled to be listed among them, and I owe a huge thank you to Corey Geiger and Steve Larson from Hoard's Dairyman and my friend Deb Reinhart who nominated me for this honor.
The most challenging thing I had to do all week was to give the acceptance speech. I had so many people to thank. As I stepped onto the stage, I thought about all the people who should be on stage with me. My life in the industry is certainly not something that I consider a solo accomplishment.
I could never be named World Dairy Expo Woman of the Year without a team. My children have made me a better person; I think they built more character in me than I ever could build in them. My friends have encouraged, nurtured, and mentored me; we join our promotion endeavors into one huge, effective ambition.

No one has been more supportive than Duane. It is a lot of effort for either one of us to leave the farm, and I am only involved in promotion because he is just as passionate about the dairy industry and he believes in me.

My mother was a joy to have at Expo. She had often heard me talk about the magnificent event, but this was her first experience. As she looked over the beauty of the Dinner With the Stars reception, she said to me, "I would never be here if it weren't for you." She paused, and gave me a twinkle and grin, "But then, you wouldn't be here if it weren't for me."
I think my heart is still bubbling over like the tub. This is one of those times that gratitude came easy. But we all have those times when the day-to-day happenings are so draining there isn't a drop of gratefulness left in the bucket.

A few years ago we were struggling and my hope had hit the bottom of the bucket. Just about the time it hit the lowest point, a nearby crop farmer ran into Duane and asked him if he could plant some corn for us; using his tractor, his fuel, and his kindness.

His second mile through our fields spoke deeply, and it gave me a trickle of gratitude that helped turn my attitude around. It did not turn my checkbook around, but it directed my focus onto thankfulness, which helped the healing begin in my heart.
I recently heard an amazing story about the benefits of saying "thank you." A farmer and his wife were known to donate to their local school's agricultural department and FFA chapter. This exchange happened often over the years and nothing unusual was thought about it until the farmer and his wife both passed away. They did not have any children, and after their passing, it was discovered that they left more than $2 million to that agricultural department and FFA chapter.

The reason for this remarkable generosity was simple — after every donation, the farmer and his wife received a handwritten note from the students. That was reason enough for them.
There are two lessons in that story. One is that we never know where our gratitude will take us. Two is that a simple, handwritten thank you is more than enough.
There's nothing better than a little gratitude to start filling the tub.
Common Threads is a regular column in Hoard's Dairyman. The author and her husband, Duane, own and operate a 550-cow dairy in Cochranville, Pa.