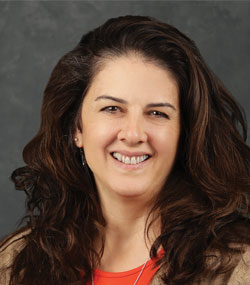 O
ur farm sits right beside a township road. In fact, the road runs right between the main farm and our numerous calf hutches, so we cross the road several times a day.
Duane and I have recently been throwing around the idea of putting a fence around the hutches. Partly to keep calves contained when they jump a wire and take off, but mostly the fence would be to make sure that strangers are not randomly walking around the calves.
Unfortunately, this is the time we live in. I probably wouldn't even think of activists walking onto our farm if not for an experience I had last year.
I happened to be upstairs in our house when I noticed a car parked in an odd place at our hutches. We have people stop at the farm all the time, so this was not totally out of the ordinary, but something didn't sit well with me.
I checked back in a few minutes, and the car was still there. My gut told me to go check it out. I found a woman leaning over the hutch wires, petting the calves. I startled her, and she didn't quite know what to say when I introduced myself and asked her if I could help. She stammered around, "No, I am just talking to the babies." By this time, the hair on the back of my neck was standing up.
We had quite the interaction as she weaved among the hutches. "So which ones go to slaughter?" I told her none of them; these calves are raised to be adult cows. She didn't get it, and all of her comments went back to killing our animals.
It didn't matter what I said. Her mind was made up that we were in the business of slaughtering animals. Telling her that we care for our animals, that their well-being is vital to our farm, and that we do not tolerate mistreatment of our animals did not sink into her thick mental barrier.
She asked if she could help care for them, and I told her no, for our calves protection, we had a screening process when we hire. At this point I asked her to leave. As you can imagine, I was shaking and my blood was boiling until she left.
This person was clueless; she was convinced by the wrong sources that every farm is a slaughterhouse. Her mind could not and would not comply with any other conclusion. This experience also made me realize how critically important it is to get the right videos out there to drown out the wrong ones.
I understand that there are people who will never change their mindset, and I am pretty sure that this person was stuck in that category. However, if the only videos she saw were the ones that show mistreatment, how would she know the truth?
Any time I can, I will always say yes to a Fuel Up to Play 60 event. Talking to a group of excited kids about the farm is always valuable time spent away. At the last event I attended, it was the NFL player, not the kids, who asked me a tough question. He pulled me aside and said, "So tell me about the videos we see on the internet. Are they for real? Do farmers really do that to their cows?"
This time there was a movable mind, and he understood when I explained how we care for our cows.
The bottom line is we have a responsibility on our farms to treat our cows with our best behavior. It doesn't matter if we have one cow or 10,000 cows; we have a responsibility to the animals, to our employees, and to the consumer.
In the light of the recent activity from activists, Duane and I revisited the FARM Program with our employees. They signed the See It Stop It agreement; we held training sessions and emphasized the importance of handling animals correctly. I don't think we can tip that scale and pound that home too much.
I would like to think that we are safe from this happening to us, but given how strategic the stagers are becoming, it is clear to me that we need to have several eyes on our farms.
Even when we implement proper training and hire the right people, things happen and we need to be aware. One time we had a heifer that was caught in a nasty situation. Due to how and where it was caught, we called the fire department. Because they were called, the police showed up. One of the policemen pulled out his phone and commented that "No one at the barracks will believe this." Thankfully, I was right beside him and shut that idea down before he had a chance to start recording. Who knows where and how he would've used it.
I don't use these examples to justify animal abuse videos. I use them to say we can never overtrain, we can never let our guard down, and we need to keep those positive videos out there. We need to own our responsibility.
When Duane and I started farming, our mission statement included "Visitors are always welcome." Even though there are exceptions to that rule, this is a statement we stand behind. Fence or no fence.
The author and her husband, Duane, own and operate a 550-cow dairy in Cochranville, Pa.