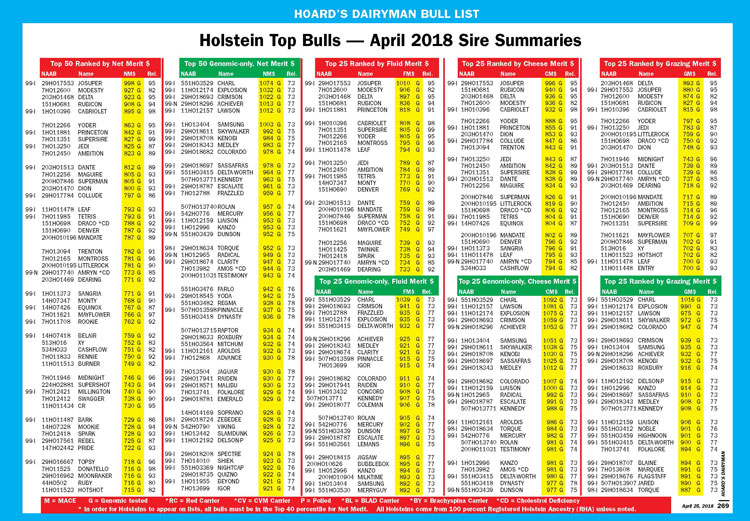 While the Hoard's Dairyman Bull List will be available in the April 25 issue, we are making it available to readers here as well. It can be downloaded by clicking this link.
To makes heads or tail of all those bulls, the Hoard's Dairyman editors sorted through the top bulls and then ranked them on nine different traits or indexes in the Holstein breed. In Jerseys, we ranked bulls on two traits, and all other breeds on one trait.
There were 4,021 bulls declared active by A.I. marketing organizations. That was up 181 bulls from August 2017.
Overall, there were 1,142 bulls available that also have milking daughters. In a previous generation these were called daughter-proven bulls. This group essentially held steady from last December's evaluations, dropping by only nine bulls.
A.I. studs added more genomic offerings as 2,879 bulls were available this April compared to 2,691 in December. As a point of reference, the August evaluations had 2,520 genomic bulls declared for sale to farmers.
When everything is considered, genomic sires make up the largest portion of the bull rankings. The ratio of genomic bulls declared active fell slightly to 71.6 percent. As for the record, the August 2017 evaluations were the pinnacle at 72.5 percent.
To comment, email your remarks to intel@hoards.com.
(c) Hoard's Dairyman Intel 2018
April 9, 2018