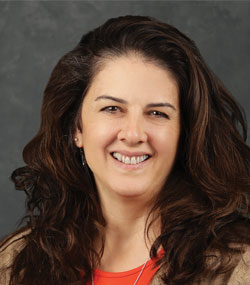 Some of the greatest gifts we receive don't cost a penny.
As I reflect over the past year and look forward to a holiday season that exemplifies gifts, I realize it is the people in my life for which I am most grateful. Indeed, it is through some of my toughest times that I find strength in my faith, family, and friends.
Of course, my husband, Duane, is on top of that list. The two of us have been through many years of farming together. We have faced some pretty big bumps on the farm and with the family; days that included buckets of tears. However, there have been more bright days than bad ones, and I hope he has enjoyed this journey as much as I have.
Our parents, children, and grandchildren are equally as special. Each one brings a unique element to make up this bouquet of family. I could go on and on about the gift of grandchildren, but I guarantee you, there are not enough pages in the Hoard's Dairyman to cover Wyatt, Juniper, and Brooks.
Spending time on dairy farmer boards, and now serving as chair of the national checkoff program, I have a unique opportunity to grow friendships across the country. The world is large, but there are a lot of beautiful people in this dynamic dairy community that make it seem smaller and smaller.
Take, for instance, the time I met a new employee who just started for the U.S. Dairy Export Council. Nick's responsibilities include a lot of overseas relationship building and promoting U.S. dairy in the global arena, a role so desperately needed right now. I was excited to meet him and learn what he does as we need a stronger, more influential presence in the world.
As we chatted, he mentioned that even though he had been working in Washington, D.C., for several years, Pennsylvania was where he was born and raised. Pennsylvania is big, but when he said he lived in Chester County, he had my full attention. It turns out, Nick grew up 20 minutes from our farm and gets back in the area several times a year for family functions. The world got really small by the time we were done talking.
I have had similar experiences several times . . . a conversation starts and suddenly a simple discussion has a huge impact on the friendship. We truly are a large family in this industry.
Being a dairy farmer, my friendships do not end with humans. Cows are a strong connector for me.
It is no doubt that farmers love talking about particular cow families; their uniqueness, successes, and personality traits bring us closer together. Sometimes it is not just conversation but the animal itself that seals personal friendships.
I had that experience last year when we decided to sell a heifer calf at the World Dairy Expo sale. Sedona was a cute and spunky calf, and it was bittersweet to think about selling one of my special babies. I also knew that the timing was right and it was a good business decision.
Selling the heifer at Expo meant that Sedona needed to be halter broken, and that task fell on my shoulders. It is not one of my greatest strengths, but I knew that this heifer and I would make out just fine.
Sedona was a quick learner, and it did not take too long before she was gracefully walking behind me without much effort. When I halter train an animal, I talk to them, pretty much the way I talk to my grandkids. I know they do not understand, but I talk to them like they know exactly what I am saying. Whatever I did worked because Sedona knew precisely what to do the night of the sale and then took a trip across the country to Hilmar Holsteins in sunny California.
Fast forward nearly a year, and Duane and I found ourselves at a Land O'Lakes board meeting in California, close to one of my dear dairy board friends, Carol Ahlem. I have been promising Carol a visit to Hilmar and this trip seemed to be the best timing.
Hilmar Holsteins is right beside the Ahlem's dairy farm. Carol kindly arranged a visit to the family who purchased Sedona so we could meet them and get a glimpse of our girl.
After chatting about our farms and cow families, we drove to the heifer lot and looked at the large group of heifers. The owner soon found Sedona, but she hung at the back of the herd. That is, until I stood on top of the bunk feeder and started talking to her, just like I talked to her during her training.
Instantly, Sedona's nose went up in the air, her ears went forward, and she focused in on me. I kept talking as Sedona made her way through the other heifers to the bunk feeder. I held out my hand, and she put her nose on my extended fingers.
I was thrilled.
Amazingly, after all that time, she knew my voice and had the trust to come up to me. That exchange warmed my heart. Sedona definitely gave me a gift that day. After giving this heifer tender loving care a year before, Sedona gave me a gift of trust, and it did not cost her a penny.
The author and her husband, Duane, own and operate a 550-cow dairy in Cochranville, Pa.