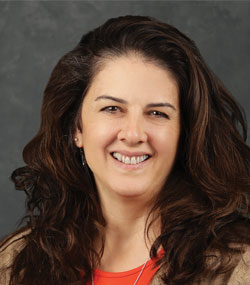 Several years ago, I found out that I am allergic to cow dander. It is not an intense allergy but rather a nuisance that includes itchy eyes, sneezing, a stuffy nose, and a lot of clearing my throat.

It all started when Duane and I spent the early morning hours doing health checks on the fresh cows. Monitoring temperatures and checking for ketosis on our cows that recently calved is a good way to maintain their health the first few weeks of lactation. It is a critical time for the new mothers, and Duane and I took care of that chore for several months until we moved an employee into that position.
In all my years of milking, I never had trouble working around cows but, for some odd reason, an allergic reaction developed. After being tested, the very thing I suspected was confirmed; I am allergic to cow dander. The recommended solution was a mild allergy pill, nose spray, and to stay away from cow hair.
Like most farmers, I listened to the recommendations that worked into the farm schedule. Finding out about my allergy did not change the fact that the cows still needed health checks; it just meant that I took a pill and hit my nose with spray before I headed to the palpation rail. For the most part, that little bit of maintenance took care of the issue.
I recently attended a dinner meeting with leaders in our Pennsylvania Dairy Princess program. As we were eating dinner, we had a lively discussion about our animals and what they have given us over the years.
We were not focusing on the character-building goodness that cows give us, like a strong work ethic, lessons on perseverance, and the joys of working with the gentle, beautiful, and nurturing bovine. No, this discussion focused on situations in which we picked up little things, like pink eye and ringworm.
I quickly headed down memory lane and remembered the time when our daughter, Kacie, was showing her beautiful two-year old cow, March. March was Kacie's 4-H baby, and as the calf developed into a cow, March was magnificent in the showring.
However, sometime during the show season, March developed pink eye and needed to be treated to clear up the infection. Not too many days went past before Kacie's eye started to get congested, watery, and pink.
I took her to the doctor. Thankfully, he was not alarmed or taken back by the source of Kacie's infection, and it was not long before both cow and kid were back in top shape, just in time for the showring.
One time, Robert ended up with a case of ringworm that he got from his show heifer. Ringworm takes longer to clear up than pink eye, and I vaguely recall disappointment as a special calf was left back at home instead of going to the show.
Of course, we did not quarantine Kacie or Robert when they picked up their animals' annoying ailments. However, we did take measures to keep the disease from spreading throughout the animal and human herds.
At this point in life, the stories are funny, but at the time of the infections, there was more discouragement and tears than laughter. A lot of preparation days and a ton of bonding happen before the show, and to suddenly go into a quarantine can be extremely frustrating for the young farmer — especially when the infected animal is a favorite.
The examples I gave are lighthearted; however, there is a more serious side to the things we pick up from our animals. We work close to them every day, and some of the diseases can be quite dangerous.
Those of us who are around animals daily are more likely to remember that they can transfer illness to us and take precautionary measures. Sometimes, though, the transfer happens even when we are careful.
At our farm, we have had two cases when that happened. Several years ago, both salmonella and Cryptosporidium were picked up by employees working with sick calves. Neither of these infections are minor issues, and both were taken seriously and quickly handled with a doctor's oversight. We cannot look at these sicknesses flippantly.
Since both cases, Duane and I are more careful to take the time to properly train employees who work around the animals, especially young calves. We use safety measures like gloves and coverall clothes, and we repeatedly encourage everyone to wash their hands.
In the case of allergies, washing hands and wearing gloves do not contribute to a solution. The only answers for me are allergy pills and nose spray.
I do not know why I developed allergies later in life. I know when I look back over the decades, though, I'm blessed that I have had the privilege to work with these amazing and wonderful creatures. Even with the sneezing, I would do it all again. They shed much more on me than their dander.
The author and her husband, Duane, own and operate a 550-cow dairy in Cochranville, Pa.