The information below has been supplied by dairy marketers and other industry organizations. It has not been edited, verified or endorsed by Hoard's Dairyman.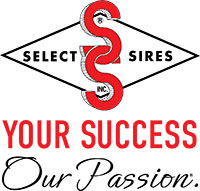 As the world's largest A.I. cooperative, Select Sires is proud to offer many career development opportunities for young industry professionals. George DeMers, Madison Dyment, Taylor McWhorter, Preston Sheets, and Alyssa Timoschuk are five interns that will join the team at Select Sires throughout the summer.
"Practical work experience and networking within the agricultural industry are some of the strongest tools a college student can possess to prepare them for full-time employment," says David Thorbahn, president and CEO of Select Sires. "Select Sires offers hands-on internship opportunities each year that help to expand knowledge of the industry and give interns the chance to contribute to our day-to-day operations."
George DeMers, a York, Pennsylvania native, joins Select Sires as a research intern. DeMers is a recent graduate of Penn State University with a degree in animal science and will attend the University of Pennsylvania School of Veterinary Medicine this upcoming fall. His passion for the dairy industry began at a young age watching his dad run a heifer operation. This enthusiasm continued, with DeMers joining the Penn State Dairy Science Club and working in a lab studying dairy genetics. DeMers will assist the semen processing department with research matters.

<!-no ad-->
Hailing from Ontario, Canada, Madison Dyment joins Select Sires as a communications intern. Growing up with both parents working in the dairy industry, she has been immersed in it her whole life, competing in 4-H, attending cattle shows and sales, and working with heifers and young cows at her family's hobby farm. Dyment received her degree at the University of Kentucky in agricultural communications and journalism and is continuing her studies in the same field as a graduate student at The Ohio State University where she assists with the school's dairy judging team. This summer, Dyment will design the 2022 breeding calendars and promote Select Sires as a member of the communications team.
Taylor McWhorter joins Select Sires from Cumming, Georgia as a research intern in the genetics department. As a graduate student at University of Georgia, McWhorter will graduate with her Ph.D. in animal science with an emphasis in animal breeding and genetics. She is also the president of the Animal and Dairy Science Graduate Student Association. Despite not growing up on a farm, McWhorter has always had a passion for animals and fondly remembers spending time at her great aunt's beef farm. She will spend her internship assisting with various research tasks related to genetic improvement.

Preston Sheets serves Select Sires as a marketing intern. From Cortland, Ohio, he currently attends The Ohio State University, studying agriculture management and dairy science. Sheets is involved in many activities that further his passion for dairy, being a member of the Ohio State dairy judging team and the Buckeye Dairy Club. His enthusiasm for dairy extends his school activities and he can often be found in the show ring exhibiting dairy cattle. Sheets will assist the marketing department with cattle photography, fitting and numerous other projects.
From Norco, California, Alyssa Timoschuk joins Select Sires as an intern with the EU laboratory. Working for Select Sires runs in the family, as her father, Jeff Reidman, has worked for Select Sires since she was young. Timoschuk currently attends Oklahoma State University and will graduate in 2022 with a degree in animal science biotechnology. She is an active member of her school's dairy science club and loves working with cattle in her spare time. Timoschuk grew up in the dairy industry and has shown dairy cattle for most of her life. She will assist with daily operations of the lab, initial processing of semen, data entry and extending product life.
Based in Plain City, Ohio, Select Sires Inc., is the largest global A.I. cooperative and is comprised of six farmer-owned and -controlled local organizations in the United States. As the industry leader, it provides highly fertile semen, as well as excellence in service and programs to supply dairy and beef producers with the world's best genetics.