Internships give students a chance to try their hand at a certain job, possibly solidifying what they want to do — or don't want to do — after graduation. It's also an opportunity to get a behind-the-scenes view to some of your favorite dairy industry companies, organizations, and events.
My internship as the coordinator for the House of Moo, an educational display about the dairy industry at the Wisconsin State Fair, gave me experience in planning an interactive booth and managing a team of youth and adult volunteers. It also allowed me to see another side of the fair.
During my 4-H days, I loved the Wisconsin State Fair from my dairy exhibitor perspective. In that internship position, I learned much more about the planning side of the fair. I met people who worked late into the night wrapping up last minute details to make an event of this size run smoothly. I was at the fair for its full 11-day run, watching the various crews handle the changeover of events, performances, and livestock shows. In my opinion, this peek inside the innerworkings of the fair was a bonus benefit of that internship.
Every summer, we hire an editorial intern to work with our Hoard's Dairyman team. This individual plays an integral role within our editorial group, writing content that we publish in print or online. While it is our goal that the student walks away from our internship with expanded writing skills and a broader knowledge of the dairy industry, it's also an opportunity for them to see what it takes to put together a magazine that is read across the U.S. and around the world.
Our interns participate in the strict quality control measures we take to limit mistakes. They see the publishing schedule we must follow to meet our print deadlines. They get to witness the calls that come in from readers and partake in conversations among our editorial team. It is our hope that each intern learns a great deal about the ins and outs of agricultural journalism and magazine production over the course of the summer.
If you are a student interested in agricultural journalism, consider applying for our 2024 internship. We are looking for individuals with a strong interest in dairy and writing. You can learn more about the position by watching this video interview with our 2023 intern, Madison Sifford.

Interested applicants should submit a cover letter, résumé, and two letters of recommendation to Abby Bauer, Managing Editor, at abauer@hoards.com. You can learn more about the internship on our Hoard's Dairyman website. Applications are due Friday, October 20. Don't miss this chance to get a behind-the-scenes look at agricultural journalism!
---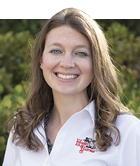 Abby Bauer
The author is the managing editor and covers animal health, dairy housing and equipment, and nutrient management. She grew up on a dairy farm near Plymouth, Wis., and previously served as a University of Wisconsin agricultural extension agent. She received a master's degree from North Carolina State University and a bachelor's from the University of Wisconsin-Madison.