The author was the 2021 Hoard's Dairyman editorial intern.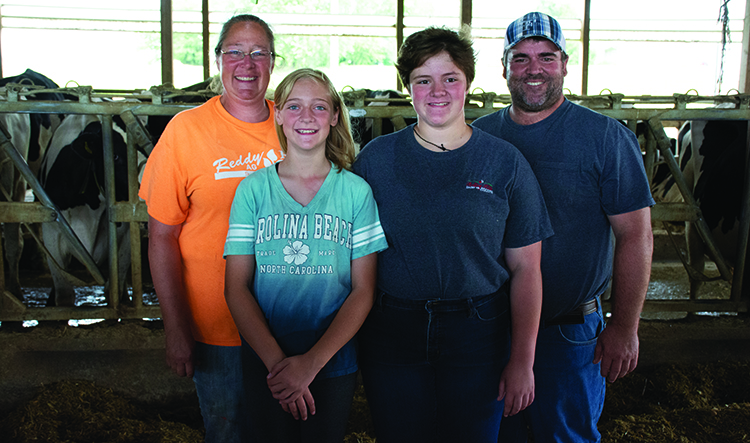 Pull up a seat and grab some popcorn because just like any great movie, the underdog is about to rise to the top. The character once seen as hidden and reserved will emerge in humble glory. This newly found fame comes from years of working hard behind the scenes while others get the chance to shine in the limelight.
Andy Buttles of Stone-Front Farm near Lancaster, Wis., watched this story play out for 16 years. The dairy farmer, along with his wife, Lyn, their two daughters, Christina and Kayla, his parents, Elam and Barbara, and 28 employees have been waiting in anticipation for the plot to unfold.
In the role of the underdog, Stone-Front Leader Hilda showed her true colors in 2020 when she broke the record for the most lifetime milk produced by a Holstein. Upstaging those before her, Hilda produced a total of 460,720 pounds of milk, according to Holstein Association USA. Before Hilda, the reigning cow was Koepke K0017229-1660, also known as "Granny," who made 458,616 pounds of milk in her life.
As Buttles worked with Hilda over the years, he had been watching her production and foreshadowed her stardom. However, there was another notable cow on the farm that claimed attention for her own showstopping performance. Both had their place in this dairyman's barn.

A star in the background
Buttles grew up on his family's dairy farm in Racine County in southeastern Wisconsin. The farm was established in the mid-1800s, and his family has been milking registered Holsteins since 1913. His wife grew up on her family's dairy farm in Pennsylvania.
After graduating from the University of Wisconsin-Madison, Buttles began his full-time farming career. In 1997, he started looking for a less urban area to expand the family dairy operation. He found a farm in the scenic southwestern corner of the Badger State and gradually upgraded the facilities to meet his needs.
After the move, he bought cattle from the neighbors to better utilize the double-7 parlor that was eventually renovated into a double-16 herringbone. Buttles said, "I bought a group of well-producing heifers. We just needed a group to fill the barn out." He never would have guessed that 23 years later, one of the heifers from that group would be the granddam of a record breaker.
Stage fright is not what halted Hilda's claim to fame; instead, she was in the presence of another celebrity. Stone-Front Iron Pasta, the 2010 World Dairy Expo Reserve Grand Champion, lived on the farm until she was 6 years old and was housed in the same pen as Hilda.
Buttles never underestimated Hilda's capabilities or looks, but he admitted that most of the farm's visitors came to admire Pasta. While the EX-96 cow carried All-American titles and excelled in the showring, Hilda earned an EX-90 score herself and showcased her talents in the parlor.

A synchronous cast
Even though Hilda is the perfect combination of type and production, Buttles believes that her life-long success is due to management and consistency. Like most cows, Hilda enjoyed following a routine. "She was always a consistent cow," he shared. "She would always be in the same stall and about the same place eating."
Predictable management practices can be spotted all over the farm. From rations to milking routines, the staff at Stone-Front prides themselves on being timely in their work and always catering to the 1,300 head of milking cows.
"The key to success is our people — a great crew from top to bottom," Buttles insisted. "It is really why our cows do well; it's because they get treated well."
The ration includes silage and haylage, and he contends that high-quality forages greatly impact a cow's performance. The team frequently pushes up feed to ensure the cows are always eating.
"Lifetime production is based on good forages," he explained. "Good forages go a long way."
The herd is milked three times a day, and 12 employees work in the parlor on their respective shifts. Through communication and staff trainings, the farm has been able to perform milkings consistently even with different people working.
Stone-Front has been able to achieve a rolling herd average of over 30,000 pounds of milk with 4.3% fat and 3.04% protein. The farm maintains a somatic cell count of around 100,000 cells/mL. All milk is sold to Rolling Hills Dairy Producers Cooperative.

Setting the scene
Raising a successful cow like Hilda is no dress rehearsal for Stone-Front Farm. The dairy follows a routine with their animals that is centered around health and comfort.
Starting at birth, calves are born in an all-in/all-out system. Cows near calving are placed into pens of five with a straw-bedded area. Buttles explained, "It's a lot more socially stable, and we've had really good luck with it."
Buttles believes this process is more sanitary and less stressful for his herd. The cows are able to familiarize themselves with the other animals in the pen and relax. Once all of the cows in a maternity pen calve, the used straw is removed, and new bedding is arranged for the next group.
After the maternity pen, the calves are moved into the calf barn and cows enter the regular milking routine. Calves are housed individually and fed pasteurized milk twice a day for eight to 10 weeks.
Following weaning, heifers are taken to local growers just a few miles from the farm, where they are eventually bred. They are brought back to the home farm six weeks before calving.
The celebrity treatment
In the milking herd, cows are grouped by age, production, and reproductive status. The farm provides sand-bedded freestalls for the registered group of predominately Holsteins with a few Ayrshires, Brown Swiss, Jerseys, and Milking Shorthorns mixed in. The farm also uses fans and sprinklers for cooling during the warmer weather.
All cows wear collars to track their production, activity, and rumination. Buttles especially likes detecting heats from the devices. He shared that they are more accurate in their breeding decisions and time effective with reproductive work.
Rumination monitoring is also used to identify potentially sick cows. "This allows us to manage more cows without animals falling through the cracks," he said.
Stone-Front Farm relies on top tier genetics for the future of their herd. "I like a cow that makes a lot of milk but doesn't look like she makes a lot of milk," Buttles said. Using A.I., half of the milking herd is bred to Holstein semen while the others are bred to beef semen.
The top half of the heifers are bred to sexed semen and the rest carry embryos or receive conventional or beef semen. The resulting beef calves are sold by a week of age.
In her 16 years, Hilda produced eight natural daughters. "We have a lot of daughters, granddaughters, great-granddaughters from her," Buttles said, smiling. "It is a highly productive family!"

Referring to Hilda's success, he stated that with her size and structure, high milk production came easy. Her strength and moderate frame allowed her to be a reliable cow. Like any unproblematic cow, he noted that she was constantly eating and mostly kept to herself. He also said she had a little luck along the way to remain in the milking herd as long as she did.
There is no doubt that Stone-Front Farm raises some productive, famous cows. Their commitment to comfort and consistency is not an act, and developing a cow like Hilda is the result of hard work and years of dairy farming experience. No one had to tell Hilda to "break a leg" as the saying goes in show business because at Stone-Front Farm, her stage was one of routine treatment, comfort, and exceptional feed.