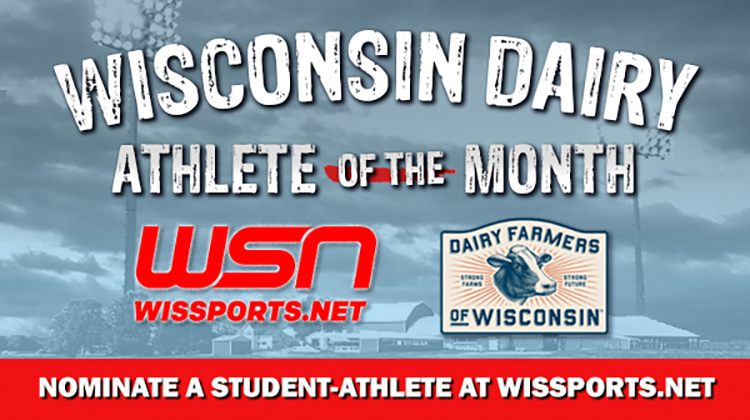 Dedication. Commitment. Integrity.
We see the same values embodied by dairy farmers embraced by outstanding student athletes. What sometimes flies under the radar is that many talented youths leading their teams to victory also play a vital role in the dairy industry by contributing to local family farms. Their determination and devotion to the family farm and animals are tied closely to their athletic endeavors.
A new recognition program aims to highlight the common ground between Wisconsin's sports and agricultural communities. The Wisconsin Dairy Athlete of the Month initiative, launched this fall through a partnership between Dairy Farmers of Wisconsin (DFW) and Wisconsin Sports Network (WSN), celebrates standout athletes for their contributions in both fields. Each month, an exceptional student athlete participating in a Wisconsin Interscholastic Athletic Association (WIAA) organized varsity high school sport will be featured on WisSports.net, and DFW and WSN social media channels.

Highlighting all-star examples
Already, Wisconsin Dairy Athlete of the Month honorees have demonstrated impressive capacity for balancing academics, farm chores, and agricultural extracurriculars with team training and athletic competitions. Ellsworth High School three-sport athlete Levi Nelson, the inaugural honoree, is responsible for his six Holsteins and other show animals. You can also find the varsity running back, wrestler, and state track and field champion volunteering alongside teammates for setup and cleanup duties at the town's annual cheese curd festival. (Milk from Nelson's family farm is turned into curds at the Ellsworth Cooperative Creamery.)
Madeline Hensel of Pittsville, who was featured as Wisconsin Dairy Athlete of the Month in October, was the first female kicker to score as a varsity football player in Pittsville High School history. She honed her footwork as captain for Eau Claire United Soccer, and credits family support and superb time management skills with her ability to excel on the field and academically. Hensel and her sister raise and develop a herd of Red and White Holsteins. Serving as the 2022 Wisconsin Holstein Association Princess provides a platform for Hensel to advocate for the dairy industry.

Reaching a fan base
The Wisconsin Dairy Athlete of the Month initiative introduces a statewide audience to the next generation of Wisconsin dairy farm families. With more than 35 million page views per year, WisSports.net is a preferred platform for urban and rural athletes, coaches, and fans. The site, which features high school sports schedules, individual athlete and team statistics, state rankings, and more, is now also a source for consumers to see positive dairy messaging and meet a few of the people who help produce their favorite foods. After all, chocolate milk is the official recovery drink for athletes throughout America's Dairyland.
By bridging the connection between dairy industry families and the rising stars of Wisconsin's high school sports scene, DFW and WSN demonstrate support for our local farmers and athletes across the state. You can read more about additional honorees, including Ian Brown and Garrett Ulness. Readers also can nominate a high school student for Wisconsin Dairy Athlete of the Month online at wissports.net/wisconsin-dairy-athlete-of-the-month.
To comment, email your remarks to intel@hoards.com.
(c) Hoard's Dairyman Intel 2023
February 13, 2023