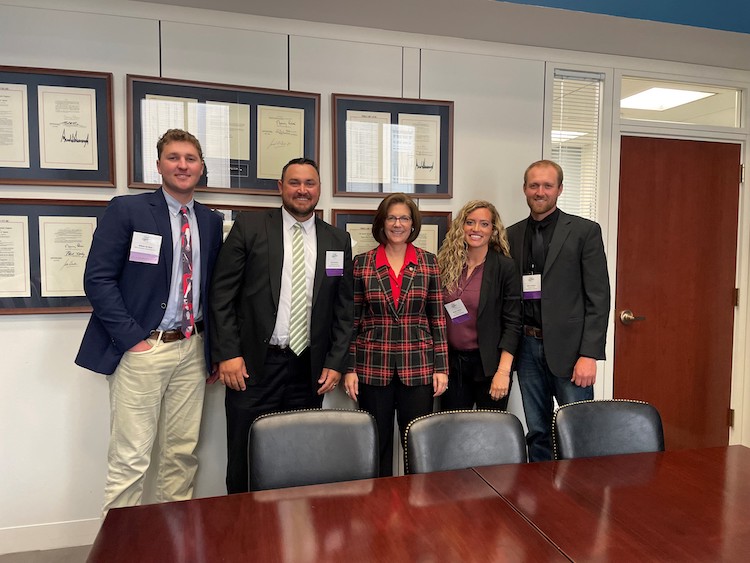 Farm bill negotiations, an effort to modernize the Federal Milk Marketing Order system, and an ongoing dairy labeling battle provided up-and-coming dairy leaders with no shortage of topics to discuss with members of Congress and their staffs on Capitol Hill.
Young Cooperators (YC) from across the country were in Washington last week for the National Milk Producers Federation's annual Dairy Policy and Legislative Forum, a two-day issues and advocacy training that equips young dairy farmer leaders to effectively advocate for dairy's interests.
Forty-nine producers from 21 states ranging from Maine to California brought dairy's voice to Capitol Hill to promote NMPF's policy priorities while sharing how these issues uniquely affect their businesses.
NMPF's effectiveness in Congress depends heavily on grassroots engagement. With fewer people than ever directly involved in dairy, farmers must continue to punch above their weight to maintain relevance in an increasingly urban Congress. NMPF's National YC Program equips them to do that, providing opportunities to learn background information about the many issues affecting the industry, and empowering them to become — and stay — politically engaged.
The National YC Program is open to producers under the age of 45 who own or are employed on an NMPF member cooperative dairy farm.
The program's webinar series is open to all eligible dairy farmers and industry affiliates and available at no cost. The 45-minute webinars, each covering a different topic, are held quarterly. Recent topics include an update on NMPF's modernization efforts, finding work/life balance on the farm, and a panel discussion about challenges women face in reaching dairy leadership positions.
In addition to its Dairy Policy and Legislative Forum, NMPF's YC Program has other in-person opportunities this year. The program will host a workshop and reception on October 5 at the World Dairy Expo in Madison, Wis. Later that month, the National YC Program is hosting a Young Farmer Forum at the International Dairy Federation's World Dairy Summit October 17 to 18 in Chicago, Ill. The next month, it will host its annual Leadership and Development Program from November 12 to 13 in Orlando, Fla.
Click here and check the National YC Program box to stay up-to-date on program activities and contact your cooperative to learn more about the program and how you can be involved.
To comment, email your remarks to intel@hoards.com.
(c) Hoard's Dairyman Intel 2023
June 15, 2023