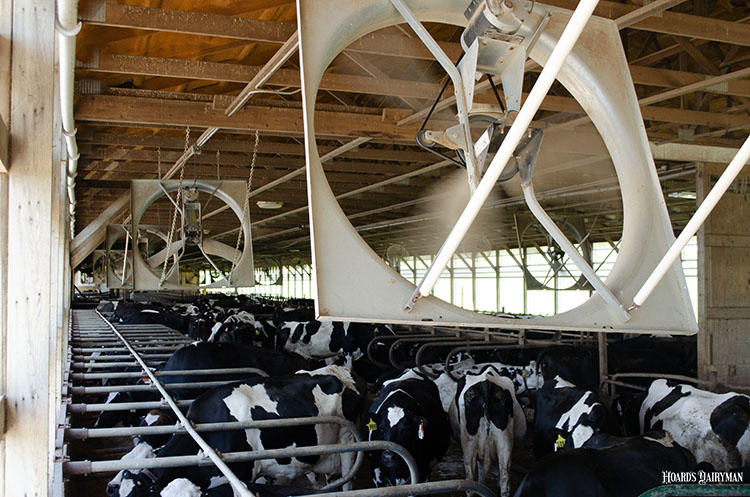 Sometime during the summer, nearly every dairy-producing part of the country will experience enough heat to cause stress for bovines that results in reduced milk yield, poor reproductive performance, and greater health concerns. The commonality of this occurrence has led to detailed research on heat abatement.
Shade, sprinklers, and fans are all employed as cooling strategies. Recent research from the University of Queensland in Australia applied many of these means of cooling to 120 cattle housed on a covered drylot.
They were cooled in two different groups. One was cooled with shade, sprinklers, and fans during daytime hours. The other group was cooled similarly but was also cooled through the night.
Night cooling was found to be especially important in dissipating heat and returning cows to normal body temperature. In the Australian study published in the Journal of Dairy Science, cows in the night cooling group held greater daily milk yield during the study's duration by 2.05 kilograms (4.52 pounds) of milk per cow per day. Additionally, during the third heat wave of the summer, cows that were cooled at night returned to higher milk production more quickly than those cooled only during the day.
In other words, cows under night cooling rebounded more quickly than cows cooled only during the day. Perhaps this stands as a good reminder of cows' needs and particularly their need for body cooling.
In addition to improved milk production, the cows that were cooled at night had lower rumen temperatures and reduced panting compared to those cooled in the daytime only. They also spent more time lying down.
Generally, the researchers concluded that the more cooling that could be provided at night, the better cows were able to manage heat stress and dissipate heat. Consider how your cooling system can best serve the cattle you milk as we enter some of the warmest weeks of the year.
To comment, email your remarks to intel@hoards.com.
(c) Hoard's Dairyman Intel 2023
August 3, 2023