2008 National Guernsey Convention Tour Stop
The reproductive demonstrations at the Hoard's Dairyman Farm drew big crowds during the afternoon. The farm was the final stop for the Guernsey enthusiasts on the Saturday of their annual convention.
Paul Fritsche held one of the Hoard's Dairyman Guernseys during reasons at the culmination of the classification contest.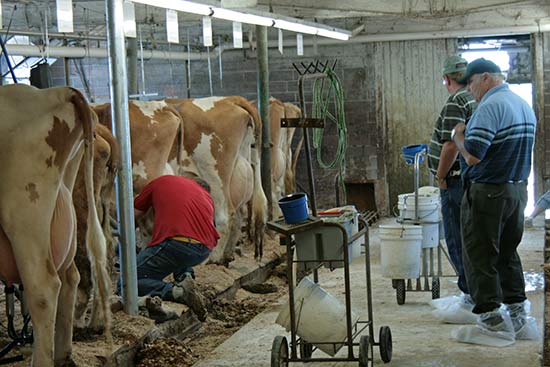 Convention goers took one last look at the Guernseys held in the tie-stall barn just before they were milked.
Dan Fritsche volunteered to lead a Guernsey while other spectators listened to the second set of official reasons in the classification contest.
Guernsey owners from many states were able to explore the Hoard's Dairyman Farm's freestall barn built in 2007.
The parlor was a popular place to be, for both cows and cow owners,
before the evening meal and entertainment began.
The evening was capped off with food, awards for the day's contests,
and hypnotist Dr. Al Snyder, a former veterinarian.
Over 425 convention attendees filled the tent for the evening.
The farm staff was not only thanked for the hard work they put into the event, but was also rewarded for having the highest-producing Guernsey cow in history as a junior 2-year old; Lindenhof Lorry Sweetie, 42,768M 2,103F and 1,374P.