After last year's hiatus, dairy cattle judging teams from around the country once again made their way to Wisconsin this past weekend in preparation for the World Dairy Expo contests.
Following a day of practice cow and heifer classes hosted by four farms in southern Wisconsin, Sunday provided an opportunity for the 4-H, post-secondary, and collegiate students and their coaches to relax just a little and take in a few of the historic sites near Fort Atkinson, Wis. First the teams visited Sunshine Genetics, a world-renowned provider of embryo technology. The next stop was the National Dairy Shrine and Hoard Historical Museum, a must-see for dairy enthusiasts from around the country.
Then, the youth and adults headed to their final stop at the Hoard's Dairyman Farm. The farm was established in 1899 by our magazine's founder, W.D. Hoard. The farm has grown and evolved over the years, and today, the mostly Guernsey herd consists of around 300 cows. A majority of the herd is milked with four voluntary milking systems, while the remaining cows are milked in a double-10 parlor. Calves are raised on-site, while heifers are reared at another farm about 20 miles away.
In addition to touring the facilities and listening to some of the farm's history, visitors enjoyed lunch. Ham and cheese sandwiches — made with our very own Hoard's Dairyman Farm Creamery cheese — and other sides were served. The Jefferson County Agri-Business Club generously offered their services and helped prepare the sandwiches for attendees.
It was a beautiful, sunny day, and it was our honor to provide lunch and host these groups prior to their final stop in Madison, Wis. We wish all the contestants the best of luck as they participate in today's contest!
If you want to follow along at home with the results as they are announced tonight, make sure to "like" Hoard's Dairyman on Facebook. The results for all three contests will be revealed at the banquet, which starts at 6:30 p.m. (CST) at The Tanbark on the Expo grounds. Summaries of each contest will also be available on Tuesday on our Hoard's at Expo blog page. We look forward to sharing these results with family and friends around the country!
Hoard's at Expo is sponsored by Agri-Plastics Group of Companies
---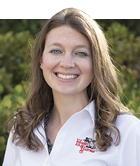 Abby Bauer
The author is the senior associate editor and covers animal health, dairy housing and equipment, and nutrient management. She grew up on a dairy farm near Plymouth, Wis., and previously served as a University of Wisconsin agricultural extension agent. She received a master's degree from North Carolina State University and a bachelor's from the University of Wisconsin-Madison.