While many think 4-H enrollment is just a necessary means to be able to show animals at the fairs, it brings value in the form of personal development, leadership skills and a respect for community involvement.
Ohio is considered the birthplace of 4-H in the United States. Small clubs focusing on one crop or livestock were formed. In Minnesota, after-school programs were developed focusing on agriculture. While the concept of 4-H began in 1902, the clover with the H's made its debut in 1910, but two years later in 1912, the official 4-H program began.
Many of us remember the Super Bowl commercial with "God Made a Farmer" earlier this year. Since then, the poem has been modified to include "God Made a Farmer's Wife" and a few additional versions, like the one below, of "God Made a 4-H member." Sara Griswold, a current Wisconsin 4-H member will take you on a path that may stir some of your favorite 4-H memories. Happy National 4-H Week!
So God Made a 4-H Member


God looked down on the earth he created and said, "I need someone who will keep the agriculture industry growing for years to come";

So God Made a 4-H Member…

God said, "I need someone who will work all year, getting their steers, heifers, and pigs ready for that one show day that doesn't even last all day";

So God Made a 4-H Member…

"I need someone who will have the leadership skills to run a meeting at a young age,
Someone who knows the Pledge of Allegiance and the 4-H pledge like the back of their hand,
Someone you can count on to finish the job they started, even if it means staying later than planned";

So God Made a 4-H Member…

God said, "I need somebody to teach the public about all the wonderful things agriculture provides for us.
Someone who will let young children pet their calf while at the fair.
Someone who volunteers for their community any chance they get.
Someone who knows that there will always be a bright future for agriculture, because without it we would be naked and hungry.

So God Made a 4-H Member…

God had to have someone who can have fun when given a deck of cards and a bale of hay. Someone who can be best friends with their toughest competitors;

So God Made a 4-H Member…

God said "I need someone who knows how to deal with hard work, pain and sweat
for long enough to finish the last load of hay and still push through until chores are done.

So God Made a 4-H Member…

It had to be someone that had a passion for livestock and beyond; somebody who can sew, cook, show, take pictures, plant crops, care for animals, make things out of wood, bake, write, knit, volunteer, fix things, problem solve, all while still having fun.

Somebody who would be able to handle not getting first because at the end of the day it isn't all about the number of trophies or ribbons you have, it's about the friendships and memories that will last a lifetime.

So God Made a 4-H Member…

The poem can be downloaded here.
---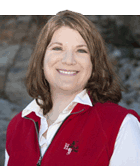 The author is the online media manager and is responsible for the website, webinars and social media. A graduate of Modesto Junior College and Fresno State, she was raised on a California dairy and frequently blogs on youth programs and consumer issues.