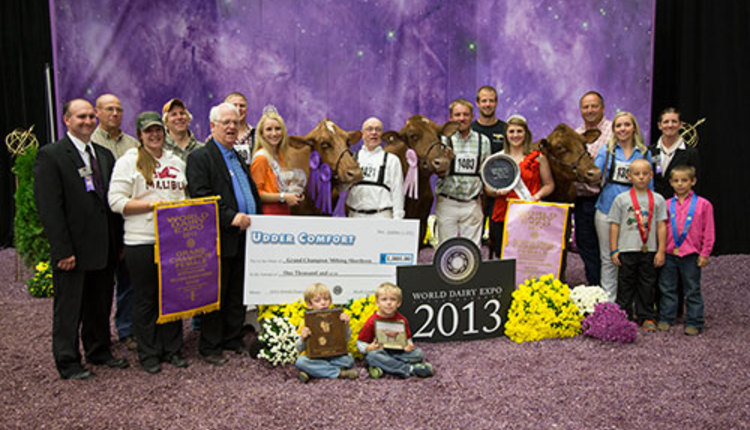 Two hundred and two cattle were exhibited at the 2013 International Milking Shorthorn show. Judge Lynn Harbaugh of Marion, Wis., and Associate Judge Katie Bue of Alma Center, Wis., were hard at work Tuesday and Wednesday evaluating the world-class Milking Shorthorns. The ultimate champion was 10-year-old Lands-Brook Christina-EXP-ET, owned by Jordan Landsgard of Lands-Brook Farms in Iowa. Christina, who is no stranger to the show ring, was honored with Senior and Grand Champion. Reserve Senior and Grand Champion honors went to 5-year-old Halpins Mona II, owned by Mackinson, G and M Halpin of Halpin Farms in Illinois.
As for the younger cow classes, Lands-Brook also rose to the top. Lands-Brook Chippewa, owned by Monica Landsgard, was named Intermediate Champion. Innisfail RU Lady 072-EXP, owned by Innisfail-Exel Shorthorns in California, followed.
In the heifer show, fall calf winner Topp-View Moonshine Alexa, owned by Topp-View farm in Ohio, was selected as Junior Champion. Buckeye Knoll Plmamzing-EXP-ET, owned by Sarah Rhoades of Ohio, was Reserve Junior Champion of the Open Show and Junior Champion of the Junior Show. Lazy M Nitro Dez, owned by Mena Schmitt of Wisconsin, followed as Reserve Junior Champion of the Junior Show.
Top honors in the Junior Show went to Senior and Grand Champion Innisfail St. Lady 859-EXP, owned by Bradley Byers of Iowa. Reserve Senior and Grand Champion of the Junior Show was B-D-F Lothario Tammy, owned by Kyla Jarvis of B-D-F farms in Indiana.
Premier Breeder was awarded to the Innisfail Herd in California, and Premier Exhibitor went to Halpin Farms in Illinois.
Return to Hoard's at Expo page.
---
The author is the 25th Hoard's Dairyman editorial intern. She will be a senior at California Polytechnic State University in San Luis Obispo. At Cal Poly, Taylor is majoring in dairy science with an agricultural communications minor. Pires grew up on a 500-cow dairy in Merced County, Calif.