The 8th annual Dairy Cattle Reproductive Council (DCRC) meeting wrapped up yesterday in Indianapolis, Ind. More than 240 individuals from across the country and the world attended the two-day event on November 7 and 8, 2013.
The DCRC annual meeting has become a gathering place for university and industry researchers, dairy producers, veterinarians, artificial insemination company representatives and more to discuss current trends in dairy cattle reproduction. Information was shared through numerous presentations, posters and trade show exhibits.
The program began with a presentation by Dennis Schaffler from Elanco. He discussed agriculture's challenge of producing enough food to feed the world's estimated 9 billion population by 2050. He shared his thoughts on the growth needed from production agriculture to provide healthy, nutritious foods and how we might get there.
Tying it all together was final speaker Bill Thatcher from the University of Florida. He highlighted some of the technologies used today in heat detection and getting cows pregnant and where those technologies might go in the future. He explained that producers must look at the whole cow to maximize reproductive performance. "The dairy producer of the future needs to take a holistic approach to optimize herd fertility," he said. "And the future is now."
To conclude the meeting, incoming DCRC president Neil Michael (at right) addressed the crowd with a message from the organization. He said the DCRC wants to be "not only a resource to the industry, but an ongoing resource."
"We talked about where we've been and where we're going. The big challenge going forward is pulling it all together," he explained.

These DCRC blogs are sponsored by Zoetis.
---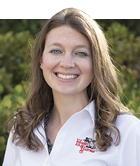 The author is an associate editor and covers animal health, dairy housing and equipment, and nutrient management. She grew up on a dairy farm near Plymouth, Wis., and previously served as a University of Wisconsin agricultural extension agent. She received a master's degree from North Carolina State University and a bachelor's from University of Wisconsin-Madison.