High milk production is oftentimes linked to poor reproductive performance in dairy cattle. However, a loss of body condition associated with insufficient feed intake may be more to blame, explained Jose Eduardo P. Santos from the University of Florida. Santos spoke at the Dairy Cattle Reproduction Council annual meeting last week in Indianapolis, Ind.
Dairy cattle face many health challenges after calving. In fact, approximately 50 percent of cows in the United States suffer from at least one disease event during the first 60 days in milk, said Santos.
One major reason for this is that, in early lactation, cows are faced with a period of extreme tissue catabolism due to negative nutrient levels. That negative energy balance is often linked to metabolic imbalance, which leads to diseases that can affect both productive and reproductive performance.
Growing nutrient needs in combination with suppressed appetite put most cows into a state of negative energy balance from a week before freshening to 2 months after calving. During this time period, daily consumption grows from about 21 pounds DM to 48 pounds DM per day. Unfortunately, caloric needs are only partially met by feed consumption those first few weeks of lactation, often resulting in a calorie deficit and a loss of 2.2 pounds of body weight per day.
Santos' work from a few years ago found that cows that dropped in body condition score the first 65 days in milk were more likely to be anovular at the end of the voluntary waiting period. They also had decreased pregnancies per A.I. breeding and more pregnancy loss the first breeding after calving. A recent study found that cows in negative energy balance were less likely to return to ovarian cyclicity before 50 days postpartum. Other studies have linked energy balance and reproductive performance as well.
If energy balance is a major driver of reproduction, our focus should be on feed intake, explained Santos. Strategies to enhance metabolic health following calving include ration formulation that minimizes the degree and extent of negative nutrient balance, as well as improving Calcium homeostasis and minimizing the severity of immunosuppression around and immediately after calving.
Limiting the time a fresh cow is in negative energy balance is a great first step to keeping her healthy. "If a cow is healthy, we can get very good fertility and reproductive performance," concluded Santos.

These DCRC blogs are sponsored by Zoetis.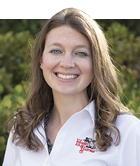 ---
The author is an associate editor and covers animal health, dairy housing and equipment, and nutrient management. She grew up on a dairy farm near Plymouth, Wis., and previously served as a University of Wisconsin agricultural extension agent. She received a master's degree from North Carolina State University and a bachelor's from University of Wisconsin-Madison.