The European Union leads the ranks in world milk production. But, on an individual nation basis, India takes the cake. The U.S. pulls ahead when considering milk produced solely by dairy cattle, as India's totals include buffalo milk.
Top 10 milk producing countries in 2012
Thousand tons*
1. European Union
156,400
2. India
133,700
3. United States
90,856
4. China
44,233
5. Pakistan
37,866
6. Brazil
33,045
7. Russian Federation
31,912
8. New Zealand
19,742
9. Turkey
16,700
10. Argentina
11,493
World total
784,427
*milk equivalent estimates
Source: FAO Food Outlook Team Biannual
Report on Global Food Markets


India may lead the way with 133.7 million tons of milk produced in 2012, but it plays a negotiable role in the import and export markets. Its growing importance is undeniable, though. It is home to two-thirds of the world's farmers, one-third of the world's cows, and a fifth of the milk worldwide.
India's key challenge: can its producers continue to meet consumer demand or are imports a must?
An International Farm Comparison Network regional meeting in Punjab, India, brought together 57 stakeholders to discuss this key challenge and what must be done to avoid an import scenario.
As the Indian dairy industry becomes more exposed to the world market, the gap between international prices for milk and the raw milk prices paid to the subcontinent's farmers shrinks. As these two numbers move closer, it opens the door for import considerations.
Like the shift that has been seen in the U.S. dairy landscape over the last century, there is a similar structural change occurring in India as general living conditions continue to improve. This development put the backbone of India's milk production – dairies with two to the animals utilizing crop residuals for feed – under threat.
As income levels rise with the development of the nation's economy, farming may not be a sufficient source of income. The result: fewer farmers of this type and less milk production in this segment.
Unless the existing system becomes more competitive, milk demand will rise faster than supply, making India as major of an importer as China.
To avoid this, milk production growth opportunities must be found, either by getting more from the same or developing new farm systems to provide families with a competitive income. The latter is limited though as it is difficult to acquire good cows and find experienced herd managers.
While it is a scenario that causes concern on the Indian subcontinent, it could develop into another potential export market for the U.S. dairy industry.
---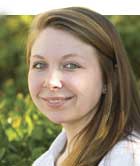 The author, Amanda Smith, was an associate editor and is an animal science graduate of Cornell University. Smith covers feeding, milk quality and heads up the World Dairy Expo Supplement. She grew up on a Medina, N.Y., dairy, and interned at a 1,700-cow western New York dairy, a large New York calf and heifer farm, and studied in New Zealand for one semester.