While it's not time to make hay just yet, it is time to get the wheels in motion for this year's cropping season. The bane of growing crops lies in our inability to predict the weather. But, we may be able to limit its effect with a switch from dry hay to baleage.
"If you can't make hay while the sun shines, consider baleage," noted Kevin Shinners with the University of Wisconsin-Madison at the Midwest Forage Association's annual meeting. The forage comes with several distinct advantages over its drier counterpart:
Shorter wilting period, better leaf retention

Low storage losses, greater weather protection

Uniform product, no taxable structure
Getting the most from baleage starts at cutting, explained Shinners. Lay rows wide, condition well and don't cut too low. You should also avoid raking soil into the windrow. Ideally, you should avoid rains and target moistures between 45 and 55 percent at harvest.
After detailing the harvesting and nutrient specifics of baleage, Shinners delved into the advantages of both tube and individual wrapping. When choosing tubes, less plastic and labor is used, and overall labor efficiency is enhanced. For targeted feeding, marketing the product, saving space or having less aerobic loss at feedout, the individually wrapped option takes the cake.
Shinners outlined the following moisture guidelines to ensure cattle end up with a well-fermented product:
Wrapping should occur as soon as possible after baling. Doing so shortens the aerobic phase and lessens the degree of heating the bale undergoes. In this vein, use good quality plastic and avoid using treated twine.
When wrapping, stretch the plastic 70 to 80 percent of its original width. Wrap close to the storage site, and avoid wet conditions, as the film will lose its tackiness.
There are many variables that come into play when determining the number of layers of wrap to use, namely film quality, thickness and material density. A minimum of five layers should be targeted for higher moisture bales, with eight for lower moisture forages. More layers are needed as moisture drops, if the plants are more mature or if you are baling a crop with sharp stems.
For storage, avoid woods, sharp stubble, poorly drained areas and wildlife. Stack mid to low moisture bales, when possible, to save space. Additionally, store round bales on the ends where there is more plastic.
---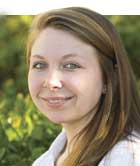 The author, Amanda Smith, was an associate editor and an animal science graduate of Cornell University. Smith covered feeding, milk quality and headed up the World Dairy Expo Supplement. She grew up on a Medina, N.Y., dairy, and interned at a 1,700-cow western New York dairy, a large New York calf and heifer farm, and studied in New Zealand for one semester.