Winter is not just about cold weather with frozen pipes, slippery concrete and snow shoveling. High volumes of snow can lead to barn collapses. At 3:30 a.m., 70-feet of roof came tumbling down on Minglewood's 400-cow freestall barn that was 21 years old.
Working in the dark initially with skidsteers and chainsaws, the immediate clean up was necessary to free eight trapped cows. Ten hours to cleanup with five dedicated to rescue netted some bovine casualties. Kristin Solum, the owner's daughter reflected, "I will never forget how No. 6110 (one of our cows) looked at us (those who helped her). It seemed to comfort her, knowing we were there to help, and she let us."
Her advice to fellow farmers, "Shovel your roof. We had been looking at our roofs and didn't really realize how much snow was there, we only looked from the ground." Advice also includes calling your fire department and electrical company. "We wouldn't have been able to get cows out as fast without their help. We called our electrician and he came to help early that morning, too."
"When the fire department arrived, they asked what our plan was and quite frankly we didn't have one," shared the Solums.
---
"Preloss preparation is the key," stressed Bob Jonas, an insurance agent. Even before the collapse, Jonas suggests having an action plan. "It doesn't have to be formal or lengthy, but get the basics covered. Where can my cows be milked or housed if there is a disaster? Feed storage options if forage is lost?
"Knowing your inventory and being aware of sources for unique or hard-to-replace parts (equipment) that could be needed, reduces some paperwork hassle and replacement items," he said. "While not pleasant to think about, it needs to be done so anxiety of the actual event can be minimized knowing you planned ahead."
Do you have lots of snow on your roof? If so, what are your options?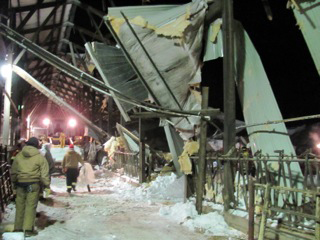 Roof rakes with handles as long as 15 feet can help remove snow. It is not necessary to scrape it bare, which can actually do damage. Jonas advises not to try to melt the snow from inside the barn as there are highly flammable items (hay and bedding) nearby. No one should be on a roof without safety equipment. Roof contractors have equipment to remove snow, but they can be costly, but it might be worth it.
In the event of a disaster, what happens when I make a claim? Jonas suggests asking your insurance agent
before
an event what is the procedure details and ask specifically if collapses are covered – because not all are. Reviewing your overage with an agent will help you prepare financially and emotionally if making a claim.
Read more blogs about
Equipment, Safety and Technology here.
---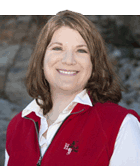 The author is the online media manager and is responsible for the website, webinars and social media. A graduate of Modesto Junior College and Fresno State, she was raised on a California dairy and frequently blogs on youth programs and consumer issues.